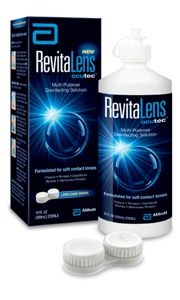 Click here and print out the PDF form (click the red box in the lower right hand corner of the screen) to get a free 2 oz. sample kit of RevitaLens OcuTec Multi-Purpose Disinfectant Solution complete with a lens case. Take the form to your nearest Walmart and redeem it in the Eye Care Center.
There is also a  $2.00 off 2 x 2 oz Size of RevitaLens OcuTec coupon here.
Direct link to the PDF in case you're having any trouble printing it out.
(Thanks FreeStuff.com!)