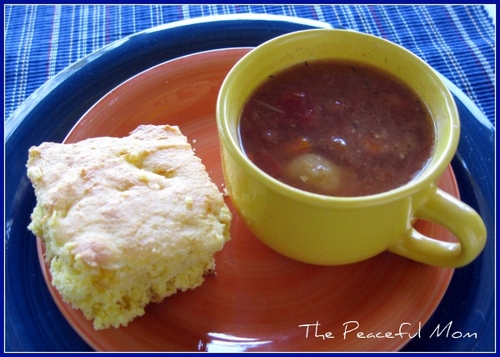 Missing cornbread? Try this gluten free recipe:
Gluten Free Cornbread Recipe
Ingredients
1 cup yellow cornmeal
1 cup white rice flour
1/4 cup sugar
2 teaspoons baking powder
1 teaspoon baking soda
1 teaspoon salt
2 eggs, beaten
1 cup milk
1/4 cup butter, melted
Instructions
Preheat oven to 400 degrees.
In a large bowl combine 1st six ingredients.
In a separate bowl, mix eggs, milk and butter.
Pour egg mixture into dry ingredients and stir until well combined. Do not over stir.
Butter an 8x9 glass baking dish.
Pour batter into dish.
Bake for 15 to 20 minutes or until a knife inserted in the center comes out clean.
https://thepeacefulmom.com/2012/02/07/gluten-free-cornbread-recipe/
I'm linking up to Gluten Free Wednesdays!