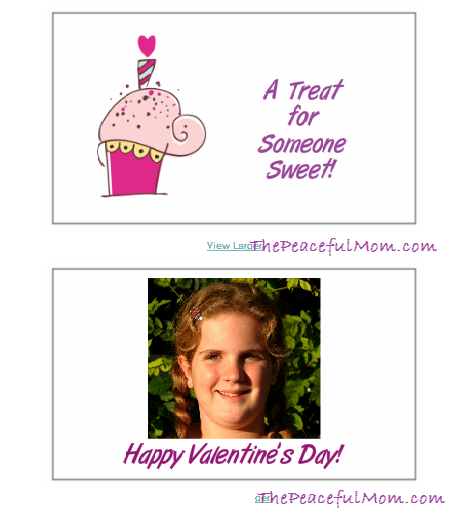 [I posted this earlier, but I wanted to remind you about the 100 FREE business card deal from Ink Garden. If you order today, you can get these cards in time for Valentine's Day.]

Ink Garden has 100 Business Cards for only $4.99 shipped! Use coupon code: 100FREE for one-sided cards and use code: 100FREE2 for 100 Free double sided business cards.

Choose a fun graphic for the front. Add your child's photo to the back.
Cut a small slit in the middle of the card & insert a lollipop for fun customized Valentine's cards! Or tie the cards to a cute candy bag (click here)!
Click here to order, then follow these steps:
(The directions are easy to follow on the site, but for those of you who like step by step instructions read below.)
To Get Started:
*Click the "ARTS, PHOTO & DESIGN" category on the right. A new screen will pop up with pictures of business cards.
*Click a card that has the basic design you want to use (top photo with text underneath, photo on left with text on right, etc. I used the "Photo Double Ring" with Becky Kulka on the card.)
*Click the purple "CUSTOMIZE NOW" Button.
*Choose a design for the back (I chose the option with the photo on top and the text underneath) and a new screen will pop up for you to customize the card.
[Click the tiny icon view of the card (bottom left of card you are working on.) to switch from the front of the card to the back.]
To customize the front of the card:  
*Delete the image on the card and customize. I clicked the Clip Art & Backgrounds Tab on the top left and chose FOOD & DRINK and then BAKED GOODS & DESSERTS for the cupcake logo.)
*Click all text except for  "Full Name" and click "delete" under the card.
*Type your text and choose your font style and color.
To customize the back of the card:
*Click the "PHOTO & LOGOS" tab on the top left. Upload your child's photo and drag it to the back of the card.
*Add your text. Change the font style and color using the tabs at the top.
To Order:
*Click "Approve and Order"
*Choose 100 for $11.99
*Use code 100FREE2  in the "Gift Certificate/Coupon" field. Your total should now be $0.00.
*Fill in your information. You will be charged $4.99 for shipping.
Awesome customized Valentine cards for less than you would pay at the store for the regular ones!
(Thanks to Savings Addiction for the original idea)!