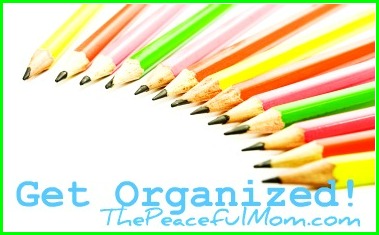 Get Organized and Live Life On Purpose.  
 
This month I've been sharing the best tips and strategies that have helped me to get organized and stay that way. I have two more to share with you today. (For more Time Tips, click here.)
Time Management Tip #4: Divide and Conquer
One way that I accomplish more is by breaking up large tasks into bite size pieces. It's a big reason why I do a Take Ten Project each week. Instead of thinking,"I'm not going to start ____ because it will take hours and I don't have time.", I start doing something on the project. Getting started helps me break the cycle of procrastination and enables me to gain momentum on a task that I otherwise would have waited to do.
Some ways that I use this principle:
Take Ten Projects (10 minutes a day on a large project like de-cluttering and organizing an area).
Check email throughout the day.
Start dinner preparation early and do a little bit throughout the day.
Start laundry first thing and move it to the next stage as I am doing other tasks.
Doing a little bit at a time means that I don't get bored or overwhelmed, but I can accomplish a lot.
Time Tip #5: Use Routines
Using routines enables me to put things on autopilot. I can do mundane tasks without using much brain power to make decisions. I just know the next thing that needs to happen.
Morning Routine
A morning routine is simply a list of personal and household items that need to be taken care of daily. Following a morning routine helps your day get started on the right foot and ensures that you get the daily "do's" done. My current daily routine looks like this:
Drink a glass of water

Journal time (including a 'Brain Dump" first thing–read more here)

Read the Bible

Write for the blog

Start a load of laundry

Exercise for 30 minutes

Shower/Dress

Eat Breakfast

Start Dinner Prep
Making sure that I do my morning routine enables me to have better focus for the day and ensures that I get all of the important things done. I hate realizing that it's 5:30 and I have no idea what's for dinner or waking up Saturday morning to 8 loads of laundry!
Evening Routine
We naturally form habits whether they are good or bad. Forming the positive habit of using an evening routine not only helps you feel more peaceful, but enables your children to settle down for bed and helps everyone get a better night's sleep.
Our current night time routine looks like this:
Take children's electronics (we have an electronics curfew).

Send children to brush teeth, shower.

Time with my husband (watching a movie, talking)

Self Care: Brush teeth, floss, etc.

Read my current book.

Lights Out.
Example of a kid's night time routine:
Bathtime
Read A Story
Prayers
Lights out
If you're not familiar with using routines, start with a very simple one in the evening or morning. Once that routine becomes second nature to you, add other tasks to it or add a routine during a different part of the day.
We can do this!