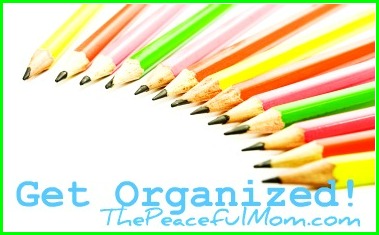 Get Organized and Live Life On Purpose.  
 
This month I'm sharing the best tips and strategies that have helped me to get organized and stay that way. This week I'll be sharing my top time management tips. (For more Time Tips, click here.)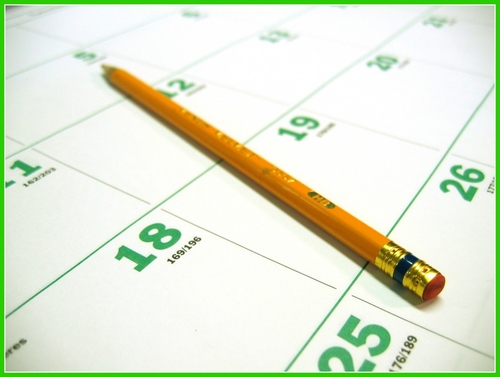 Time Management Tip #1: Schedule A Week At Time
When I first started trying to get organized, I started with a daily planner. I would plan my day first thing in the morning and try to accomplish everything by the end of the day.
While this plan improved my life tremendously, I have found in recent years that planning my life a week at a time is more beneficial.
Looking at my week as a whole helps me in 3 ways:
Planning Weekly Brings Balance
Looking at my week as a whole enables me to see when my busiest days are and allows me to schedule down time in response to those crazy times.
I can see at a glance if I have too much work scheduled or if we will have time for a field trip opportunity.
Planning Weekly Prevents Discouragement
When I planned a day at a time, I tried to accomplish one thing in each of my priority areas every day. I became easily discouraged that I didn't seem to be reaching my goals because I just couldn't do everything in a 24 hour period and still sleep!
Taking a longer view enables me to hit my top priorities every week and I feel better about myself and the way life is going.
Planning Weekly Gives Closure
I do have monthly and yearly calendars that consult, but I find that planning for a week at a time makes life seem more manageable. I can focus on a small segment of time and at the end of the week I have closure. If there are any goals or items on my to do list that weren't met, I can continue them the next week. Generally, though, I find that a week gives me plenty of time to accomplish most of my top priorities.

As a gift to my readers, you can now print your own customizable Weekly Plan! Click HERE to join The Peaceful Mom community and get instant access to my Organizing and Printable Library.
Which works best for you–planning daily or weekly? Leave a comment. 🙂
Read Time Tip #2 HERE. Read How to Plan Your Week HERE.
We can do this!