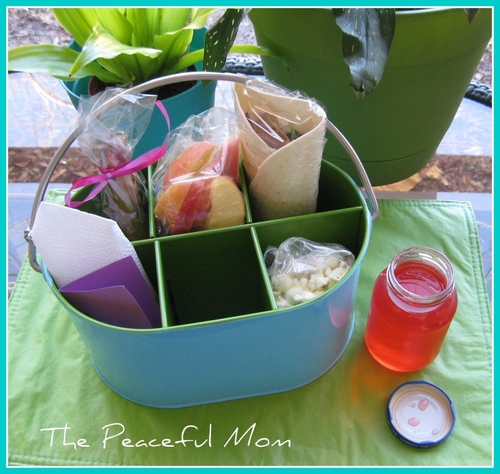 Need a little backyard fun for the kids? Make a fun picnic-in-a-bucket lunch for your kids to enjoy. 
Take a bucket or plastic pail and fill it with goodies. I used a silverware holder and put something in each section (from back left):
pretzel rods
apple slices
turkey, cream cheese, veggie wrap
cheese popcorn (I got the bag for $.50 on clearance)
homemade cherry soda in a jar (seltzer water with leftover juice from maraschino cherries)
napkin and a note
Wrapping each item individually makes it fun for the kids and a you can even add surprises like stickers, tatoos or small toys.
Spread a blanket or make a tent in the backyard and enjoy!
Have you had any inexpensive fun lately? Share a comment! 🙂
You May Also Enjoy: