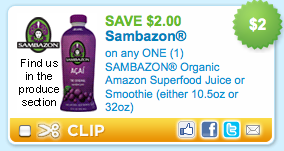 Click here and click on the "Beverage" category to quickly locate a high value $2/1 Sambazon Organic Amazon Superfood Juice or Smoothie (either 10.5oz or 32oz) coupon! Sambazon is in the produce section of most grocery stores.
You can also get a Buy One, Get One Free coupon here (Facebook).
I have seen reports that these are on sale at Publix this week for $1.99 so you can possibly get them FREE with this coupon!