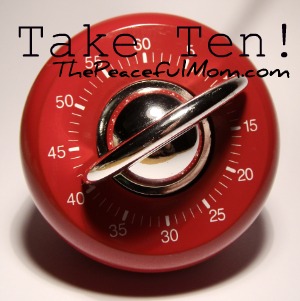 Take TenTM-Improve your life ten minutes at a time!
"The key to success whether you are trying to lose weight, break a bad habit or save money on your grocery bill is to consistently apply small changes over time."

p. 27  Save More, Clip Less
One way I incorporate this principle of small changes over time is to choose a weekly project to work on ten minutes a day. Knowing it's only ten minutes helps me to get started–even if the project seems overwhelming at first. Working on the goal daily helps me to develop discipline (hate the word, love the effects!).
Last week I planned to spend ten minutes a day reorganizing my planning binder (you can watch my Brain in a Binder video and read about each section here and find FREE printable forms here).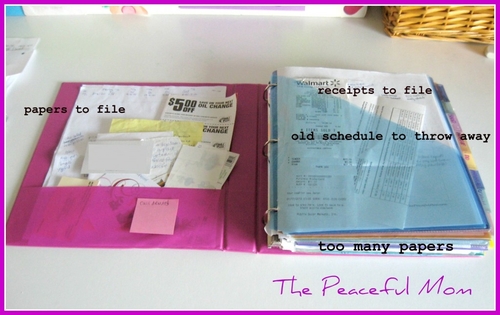 I had not cleaned out my binder in months and had quite the accumulation of papers to take care of. You know those times when you only have a second to take care of something, so you stick it somewhere and think you will get back to it, but you don't? That's how my binder ended up this way.
To be honest, I failed on the ten minute a day plan and didn't work at all on my binder last week, but I did take about 30 minutes at the beginning of this week and clean it out.
I went through each section and removed the old papers (like the expired oil change coupons and the schedule in the right pocket) and threw them in the trash. I filed the papers in the appropriate binder section or appropriate folder in my permanent file box.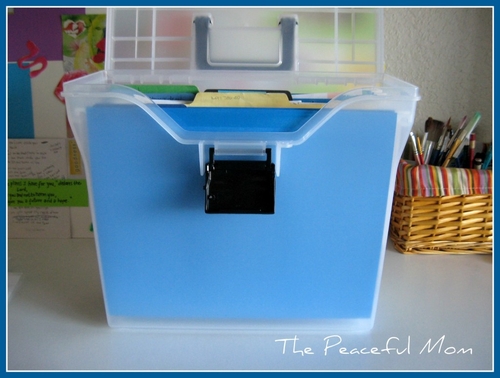 The permanent file box holds the folders for 2011 taxes, 2012 taxes (anything pertaining to tax filing goes in the tax folder throughout the year), car insurance information, car repair information, insurance information, etc.. Most of the papers from the Financial section of the binder were filed in the 2011 tax folder.
I also removed the Food section from the binder because I always put the menu on the refrigerator so I can refer to it throughout the week. (You can print a FREE customizable Menu Planner here.)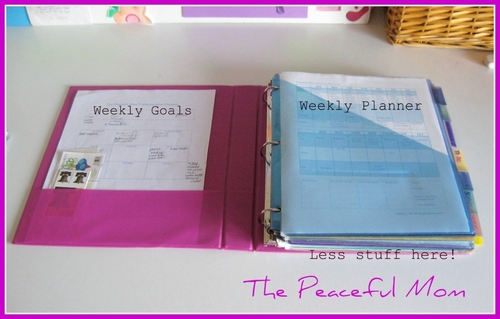 Now the binder is the way it should be: My Weekly Goals in the left pocket, My Weekly Planner in the first pocket and all the sections cleaned out and organized.
This week I'll be spending ten minutes a day gathering information for a blogging project. 
Would you like to join me in a ten minute a day project this week?
Choose an area you want to change or a project you have procrastinated on starting.  When you decide what your Take TenTM project will be, you can leave a comment on this post to let us know what you're planning–the more the merrier!
You May Also Like: