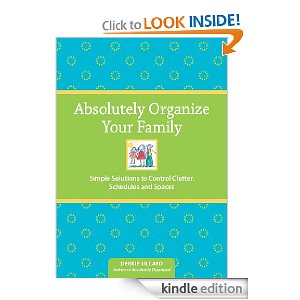 Click here to download Absolutely Organize Your Family
 ($16.99 value) for FREE to your Kindle!
If you don't have a Kindle you can still read books on your computer or other mobile devices with the FREE Kindle Reading Apps here.
Absolutely Organize Your Family is full of practical and effective solutions for all of your family's organizational challenges. Debbie Lillard, professional organizer, mother of three and author of the popular book Absolutely Organized, offers all new "Absolutes of Organizing Your Family" tips to help you gain and maintain order in three key areas of your family life: Schedules, belongings and spaces.
(Thanks, WhatsInMyBookBag!)