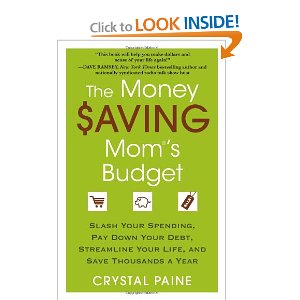 Crystal Paine's new book The Money Saving Mom's Budget: Slash Your Spending, Pay Down Your Debt, Streamline Your Life, and Save Thousands a Year
 releases tomorrow and you can win a copy!
I was very eager to take advantage of Crystal's offer of a FREE pre-release copy in exchange for a review of the book. I eagerly read it within a day of receiving it and can tell you that you will definitely benefit from reading this book.
My very favorite section is the chapter on removing the clutter and chaos in your life. As you know, I'm a big fan of living your priorities and this chapter gives you the practical steps you need to do just that.
Crystal touches on a fact that is missed by many: your finances are directly affected by clutter and disorganization in other areas of your life. She shows you step by step how to streamline and get everything back in order.
If you're in financial trouble The Money Saving Mom's Budget includes a list of "Ten Drastic Measures To Lower Your Expenses By At Least $600 Or More Per Month." Taking any one of these ten suggestions will lead to huge savings for you.
Another great feature of this book is the Appendix with helpful forms for everything from goal setting and budgeting, to making a price book.
Even if your finances are in great shape, you can still learn from Crystal's time and money saving ideas.
Click here to order The Money Saving Mom's Budget.
Would you like to win a FREE copy of the book? Simply leave a comment telling us what your biggest budgeting problem is.
The give away will end January 13th at 9:00 a.m. ( extended until Monday, January 16th at 9:00 a.m.!). The Winner will be randomly chosen from the comments on this post.
Don't forget to enter the $100 Walmart Gift Card Give Away here and the E-Mealz 3 month Subscription Give Away here!