One of the things that has really helped me to stay on track and live a purposeful life is meal planning. It may seem simple, but we all have to eat and having a plan for all that eating helps me save time, money and energy. That's why I wanted to share this article from Rachael at Kitchen Courses: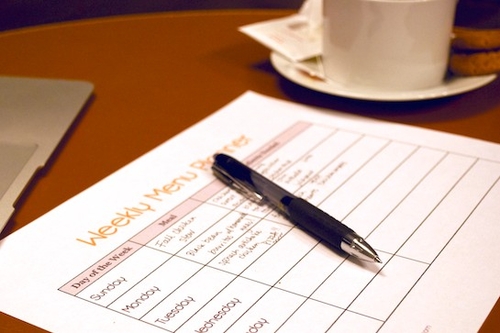 3 Fail Proof Ways to Stick to Meal Planning
Guest Post by Rachael from KitchenCourses.com


Planning meals has to be a thoughtful process each and every week. In order to save a few bucks on food for our families, we must plan out our meals so we know exactly which items to purchase at the store and which can stay on the shelf.
A fair amount of planning goes a long way when looking to save money on food, and actually sticking to meal planning is the key to making it work. That's one of the reasons I love reading The Peaceful Mom, because Kimberlee always does a fantastic job of sticking to her $100 meal plan.
But what if we forget to make a meal plan this week? Or what if other obligations or plans get in the way of creating that plan and grocery list? What are we left with? Usually, a trip to the store where we wind up going up and down each and every aisle, tossing in any box of this or any bag of that which catches our eye that day. Most of us know what this results in more spending and a blown grocery budget.
Since I don't know anyone who is looking to spend more money on food, let's go over three fail proof ways to stick to meal planning, so that you can make it a point to do it each and every week.
Make it part of your weekly schedule.
Using the most permanent, bold and bright colored pen you can find, put the time into your calendar one day each week to plan out your meals. If you know every Sunday morning or afternoon you have at least a half hour to yourself, schedule it during that time.
Put it in writing and treat it as though it is an appointment you must attend. If something comes up and you know you won't be able to sit down on Sunday morning or afternoon to create your plan, be sure to reschedule it for earlier or later in the week. Taking the time now to plan ahead will save you some big bucks later. Make it a priority in your schedule and you'll be less likely to skip over it.
Hang on to your old meal plans.
Compile old plans into a folder for a few months so that when you feel as though you're all dried up for ideas, you can easily pull out a plan and reuse it. This can be great if you've created your grocery list as well.
By using your previous plans, you can cut down on what's required of you for this week. Another idea for those older meal plans is to pull them out for inspiration or as a reference to fill in your current plan. You can take the meals as they are or use them as a jumping off point to mix up an old favorite with new ingredients.
Rely on family to keep you accountable.
Leverage your family for help when you aren't in the mood to plan. Either have a menu planning board in your kitchen so family members can see what has been scheduled or encourage them to participate by assigning meals themselves. When there's a physical representation of what you will eat, it's easier to get motivated (and be reminded) to fill it in.
Getting into the habit of creating weekly meal plans is tough to get started with, but once you get past the first few weeks (and see the results on your grocery bill), you'll be even more motivated to keep it up!
What are some ways that you keep up the meal planning process at your house?
________________________________________________________________________________________________________
Rachael is the blogger behind KitchenCourses.com and is the author of How to Cook For Yourself: A Complete Beginner's Guide. She writes about her passion for food, eating well while saving money, and inspires people to get familiar with their kitchens and cook for themselves.
You May Also Enjoy: