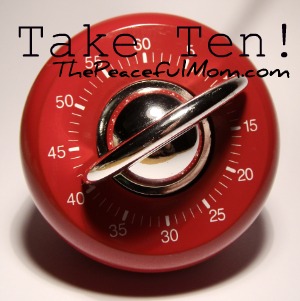 Take TenTM-Improve your life ten minutes at a time!
I don't know how your December has been, but mine has been more than a little hectic. I am usually able to plan better, but this year there were several activities that the children were involved with that required a huge time commitment. I definitely did not take that into consideration when I planned our other family activities.
As a result I have a bit of a holiday hangover (not the kind from getting drunk!) 🙂 I am experiencing the results of little sleep, no exercise and terrible eating habits.
So for this week instead of a ten minute project I am going to focus on making sure that I do my morning routine:
Journal time (or 'Brain Dump" as I like to call it!–read more here)
Read the Bible
Drink a glass of water
Start a load of laundry
Exercise for 30 minutes
Eat Breakfast
Start Dinner Prep
Making sure that I do my morning routine enables me to have better focus for the day and ensures that I get all of the important things done. I hate realizing that it's 5:30 and I have no idea what's for dinner!
Would you like to join me in a ten minute a day project (or weekly focus) this week?
Choose an area you want to change or a project you have procrastinated on starting. When you decide what your Take TenTM project will be, you can leave a comment on this post to let us know what you're planning–the more the merrier!
You May Also Like: