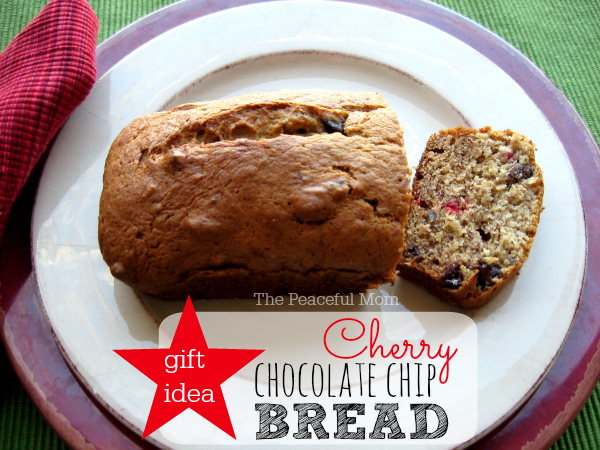 Last Minute Gift Idea: Cherry Chocolate Chip Bread. This festive variation on classic banana bread makes a perfect Christmas treat. If you can stop eating it yourself, you can give it as a gift! 🙂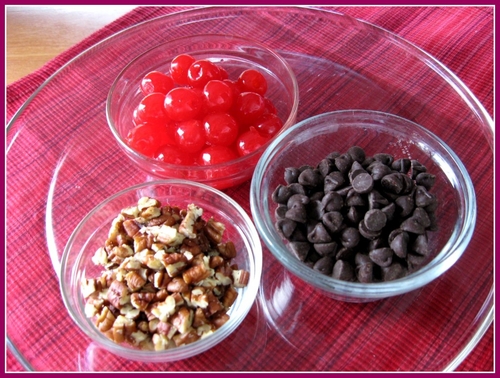 2 eggs
1 stick butter
1 cup granulated white sugar
2 medium bananas, mashed
2 cups white flour
1/4 teaspoon salt
1 teaspoon baking soda
1/2 cup chopped pecans or walnuts
1/2 cup chopped maraschino cherries
1/4 cup chocolate chips
Directions
In a large bowl, cream eggs and butter together with a stand or hand mixer. Add sugar slowly while continuing to mix. Add mashed bananas and mix until completely incorporated.
In a separate bowl, combine flour, salt and baking soda. Mix well and then add to butter mixture one cup at a time while mixing. When dry ingredients are well incorporated with butter mixture, fold in chocolate chips, nuts and diced cherries.
Pour into a greased 4.5 x 8.5 inch bread pan (or several mini loaf pans). Bake at 350 degrees for 45 minutes or until a toothpick inserted in the center of the bread comes out clean. (If using mini loaf pans reduce baking time to 30-35 minutes.)
Bread is better the second day and can be refrigerated for up to 2 weeks.
Note: The bread pictured above contains only half the cherries called for in the recipe because we ran out. If you follow the recipe your bread will have more cherry-like appearance and taste.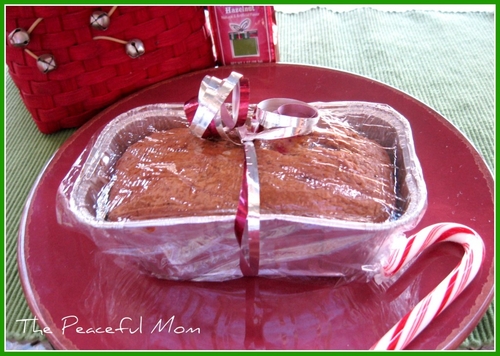 Wrap the bread with a pretty ribbon and include it in a gift basket with coffee or hot cocoa for an easy holiday gift!
For more easy gift ideas, check out The Peaceful Mom Holiday Page here!
You May Also Enjoy: