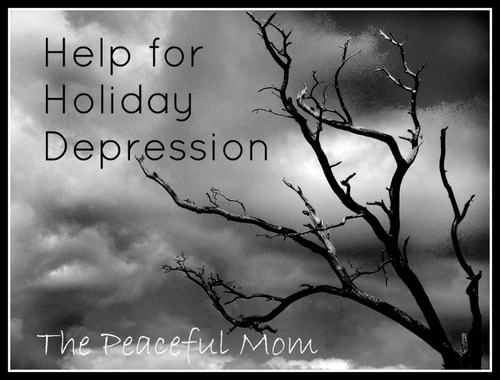 Please Note: This post is not intended as medical or professional advice. I'm just a mom who has dealt with depression in the past, and I'm sharing some ways I learned to cope with it. Some depression needs to be treated medically and you should consult your doctor or other mental health professional if your circumstances require it.
It's that time of year when everyone seems jolly and joyful, but what if you're not? Dealing with depression is never fun, but it's especially difficult during the holiday season.
Our family has first hand experience with the effects of holiday depression because several years ago one of our immediate family members died unexpectedly the third week of December. That Christmas was a blur of gray numbness. Although some healing has taken place over time, our family get togethers haven't been the same since.
Practical Ways to Cope with Holiday Depression
While there's no easy or instant fix for depression (and it's always a good idea to seek professional help), there are a few things that you can do to cope better with holiday depression.
Talk
One of the most challenging aspects of depression is the feeling of being all alone. Negative thinking patterns lead you to believe that no one understands and no one cares. This is rarely the case.
Try calling one friend or trusted family member to talk about how you're feeling. Ask them to pray for you. If you have no friends or family with whom you feel safe talking, connect with a professional counselor through your church or find one recommended by someone you trust.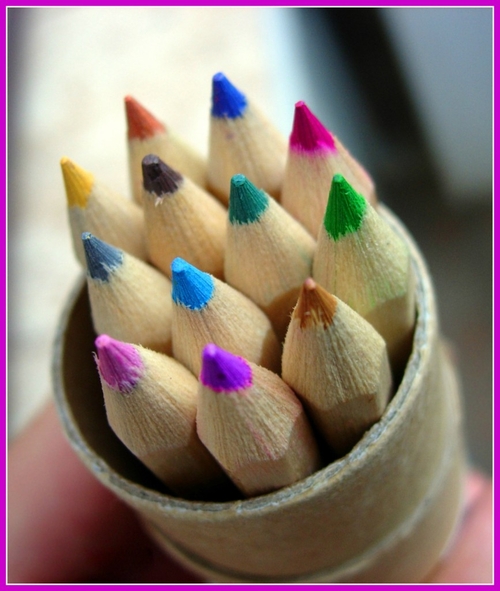 Journal
Take time to write what you're thinking and feeling. Writing helps organize your thoughts and can also help you see where you are thinking "circularly" or running the same thoughts over and over through your mind. You can also look back on your writing later and see areas of your life you might need to address.
I like using colored pens and pencils when I journal because sometimes it 's easier to draw what I'm feeling rather than putting it into words.
You can also watch my How to Art Journal video here.
Move
The mental and emotional exhaustion that accompany depression can also cause physical weariness, which means you just want to stay in bed or lay around on the couch all day. Taking a short walk every day can actually help energize you and enable you to change your mindset.
And getting outside in the sunshine during the first part of your day actually "wakes" up your brain and can improve your mood for the remainder of the day.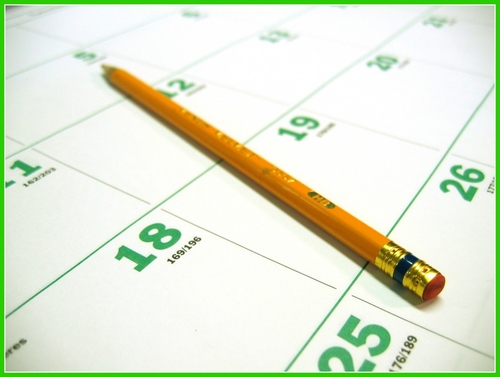 Plan
If you usually feel depressed during the holidays, you may want to avoid shopping and other typical holiday activities. This can be a good strategy, but make sure to plan other fun outings for yourself.
Having something to look forward to can be a great depression buster. Meet a friend for coffee, visit the zoo, take a picnic to a local park, see a non-holiday movie, plan and cook a special meal, take a bike ride or visit the beach.
Give
Sometimes the best way to get out of a negative mindset is serving others. Simply calling a friend to see how she's doing or baking bread for a neighbor can help alleviate depression. If you have a little more energy, you can volunteer at a homeless shelter, make blankets for a foster child program or visit a local nursing home. Seeing the plight of others can help us realize we are not alone in our difficulties and help us to cope better.
Pray
Many people find comfort in reading the Bible and praying. Making a connection with God can be very helpful in dealing with stressful or depressing circumstances.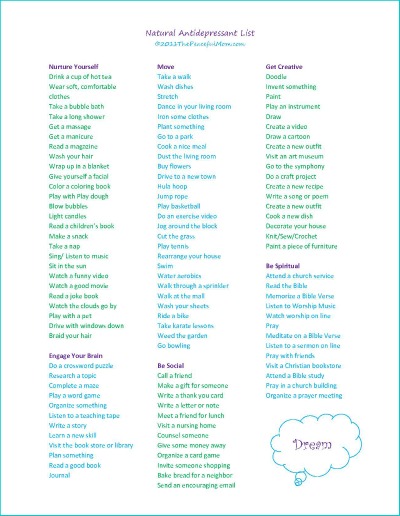 If you'd like more practical help for dealing with negative thinking and/or mild depression, you can print The Peaceful Mom Natural Antidepressant List — a list of simple activities based on Dr. David Burns short-term strategy to increase positive emotions by engaging in pleasant experiences.
Try to do at least one activity on the list each day and if you find something else that makes you feel better, add it to the list!
If you're going through a difficult time right now, you are not alone. There are many others who also feel down at this time of year.

Psalm 34:18 says,"The Lord is close to the broken hearted and saves those who are crushed in spirit." He sees where you are and wants to help.
You May Also Enjoy: