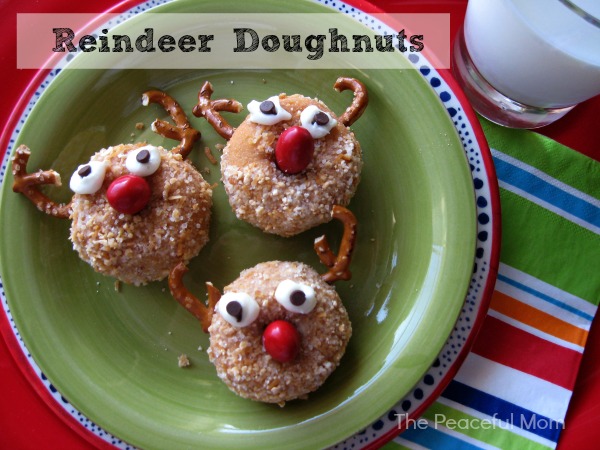 Part of the fun of Christmas for our family is doing silly activities together and this is definitely silly! I originally saw these edible reindeer on FreeFunChristmas.com, but I like our version better.
Ingredients
Coconut Mini Doughnuts
Red Candy Coated Chocolate pieces (we used peanut M&M's)
Pretzel Twists
White Icing
Mini Chocolate Chips
Zipper Sandwich Bag
Instructions
Place doughnuts onto a serving plate or tray. Place one red candy in the center of each.
Add 1-2 tablespoons of white icing to the inside corner of a sandwich zipper bag. Twist the top of the bag to press the icing firmly into the corner. Using a clean pair of scissors, trim a tiny piece of the corner off the bag to make a hole. Squeeze the icing through the bag to create eyes for each of the reindeer. Place a mini chocolate chip in the center of each eye.
Break the pretzel twists into antler shapes and insert them into the sides of the doughnuts. Enjoy!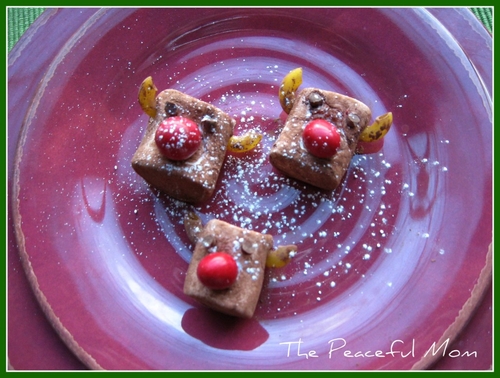 To make a gluten free version, we used marshmallows.
Sprinkle marshmallows with cocoa powder. Stick gluten free pretzels into the marshmallows for antlers (we only had gluten free pasta–lol!).
Place mini chocolate chips upside down in the top front of the marshmallow for eyes. Make a small hole in the center of the marshmallow and press a red peanut m & m (or other red candy) into the hole for the nose.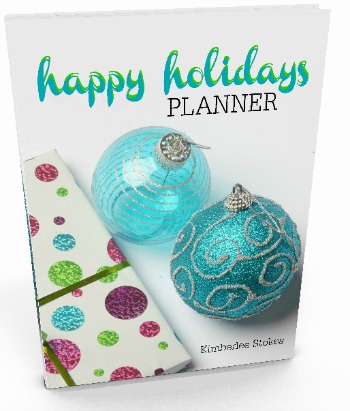 Grab my FREE Happy Holidays Planner to enjoy a peaceful and joyous holiday season this year!
See more fun Christmas ideas here.
I'm linking up at Gluten Free Wednesday