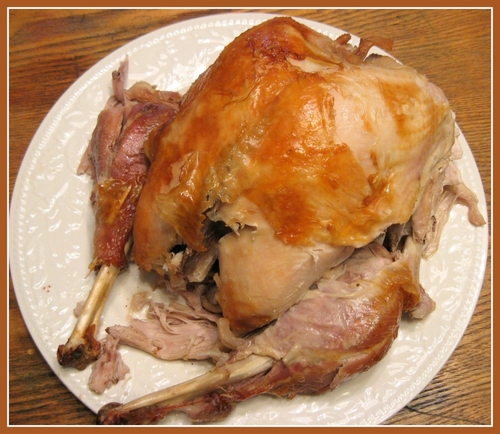 I will admit that the headline is a bit of an exaggeration, but this is what our Thanksgiving Turkey looked like.
And this is why I don't like cooking Turkey!
If you saw my post here then you know that we were unexpectedly given a week's stay in a condo near Disney during Thanksgiving week. I wasn't about to cart a frozen turkey to the condo, so we had our traditional Thanksgiving dinner last night.
I realized too late that the Oven Bag that I wanted to use requires flour, which we can't use because of my daughter's wheat allergy. I substituted Gluten Free Baking mix, but it evidently did not have whatever secret ingredient is needed because the turkey stuck to the bag (which is terribly sad because my favorite part is the crispy brown skin. 🙁 )
I guess I overcooked it as well, because it completely fell apart. You can't really see in the picture that the entire bottom of the turkey is missing!
Oh well, at least it tasted pretty good. Here's a look at the rest of the meal: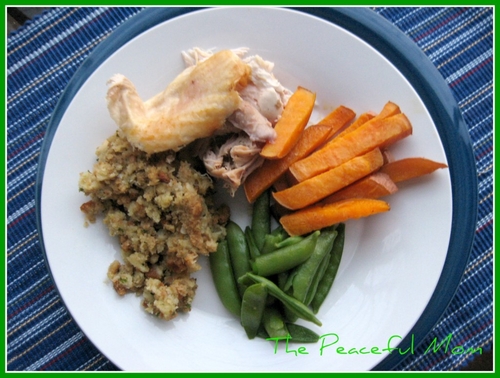 After dinner we completed our annual tradition of watching the A Charlie Brown Thanksgiving DVD, although my youngest complained that she didn't want to watch Peppermint Patty because "She is so annoying!" She also asked if Patty is a girl or a boy–LOL!
One good thing about cooking a turkey is using the leftovers. Stay tuned later in the week for my homemade turkey soup recipe–perfect for a cold winter day!
You May Also Enjoy: