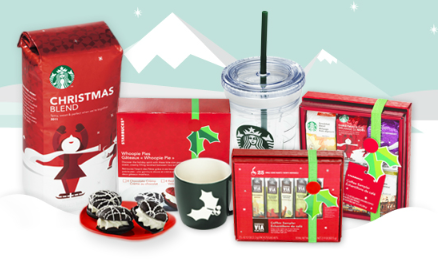 Starting Thursday December 1st, Starbucks will once again host its "12 Days of Sharing" promotion.
Each day Starbucks will feature a new exclusive offer.  Just text MERRY to 697289 to sign up or click here for more information.
(You can click on the ornaments for each offer, which is more fun, or read below.) 
December 1st:
Holiday Starbucks Petites 4 pack $3.95 (regularly $5) or 2/$6 (regularly $10)
December 2nd:
Starbucks Christmas Blend 1 pound $9.95 or Starbucks Via Ready Brew Christmas Blend 12pk $7.95
December 3rd:
Holiday Themed 16 oz. Cold Cup $9.95 (regularly $12.95)
December 4th:
Holiday Mugs $4.95 (regularly $8.95)
December 5th:
Starbucks Coffee Sampler Gift Pack $9.95 (regularly $14.95)
December 6th:
Let's Merry or Red Cup Tumbler $7.95 (regularly $10.95-$11.95)
December 7th:
50% off Cranberry Bliss Bars 6 pack $6.95 (regularly $13.95)
December 8th:
Any Starbucks VIA Ready Brew 12 pack $7.95 (regularly $9.95-$11.95)
December 9th:
Free Starbucks VIA Ready Brew 3 pack with purchase of 1 pound Christmas Blend $14.95 (regularly $17.90)
December 10th:
Tazo Tea Sampler or Starbucks VIA Ready Brew Gift Pack Sampler Pack $12.95 (regularly $16.95-$19.95)
December 11th:
Holiday Boxed Mugs $6.95 (regularly $9.95)
December 12th:
FREE Brewed Coffee During the Month of January 2012 when you buy and use the 16oz Tumbler on sale for $19.95 (over $70 value)
* Standard Text Messaging rates do apply.