If you've been reading my Becoming series then you know that I dealt with debilitating depression for many years. I've shared some keys that helped me work my way out of the dark hole I was in (read more here) and today I want to share another tool with you: The Peaceful Mom Natural Antidepressant List.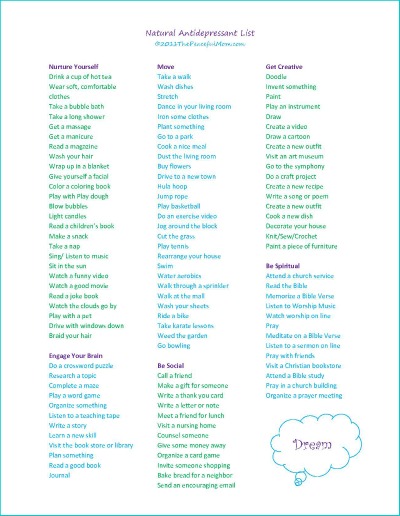 The Peaceful Mom Natural Antidepressant List 


When we're depressed we lose interest in our normal activities and nothing seems enjoyable, but managing to do just one of the things on the Natural Antidepressant List can improve your mood and enable your healing to take place more quickly.
Sometimes depression is viewed as a mental illness but it is truly a way of our body telling us that our emotions and spirits need time to heal. If you had a broken leg you would take care of yourself by propping up your leg, being careful not to get the cast wet, resting a lot and asking others to help you.
Somehow when we have a broken spirit or we are drained emotionally we think that we should be able to "snap out of it" rather than allowing ourselves recovery time. We expect to be able to "do life" as normal, but it's just the same as having a broken leg. We need to rest and nurture ourselves so that we can heal.
When I was in the very deepest season of depression I didn't have the energy to do much, but I found that small nurturing activities like drinking hot tea and coloring (yes, coloring!) were very therapeutic. I played with play dough (great stress reliever) while watching television or talking to someone on the phone. I enjoyed candlelight bubble baths while listening to instrumental music, put on soft clothes and wrapped up in a blanket to read a good book or wrote Bible verses in a notebook and decorated them. None of these activities required much of me, but they fed my soul and enabled me to heal.
If you are dealing with depression or just feeling a little down lately, why not print out The Peaceful Mom Natural Antidepressant List and post it on your refrigerator or other conspicuous location? Try to do one nurturing activity daily to improve your mood and your outlook on life. (Click here to go to the download page. You will click again to print.)
If you know someone who is dealing with depression, feel free to share the list with her.
Please note: I am not a medical professional, but just a mom sharing something that helped me. Please seek medical attention if your situation requires it and of course, this list is not intended to replace the recommendations of your doctor or therapist.
You May Also Enjoy: