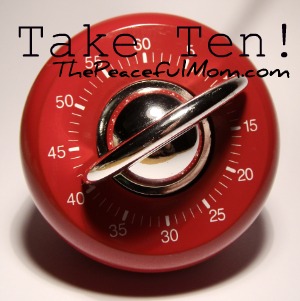 Take TenTM-Improve your life ten minutes at a time!
"The key to success whether you are trying to lose weight, break a bad habit or save money on your grocery bill is to consistently apply small changes over time."

p. 27  Save More, Clip Less
One way I incorporate this principle of small changes over time is to choose a weekly project to work on ten minutes a day. Knowing it's only ten minutes helps me to get started–even if the project seems overwhelming at first. Working on the goal daily helps me to develop discipline (hate the word, love the effects!).
This week I have two ten minute a day projects: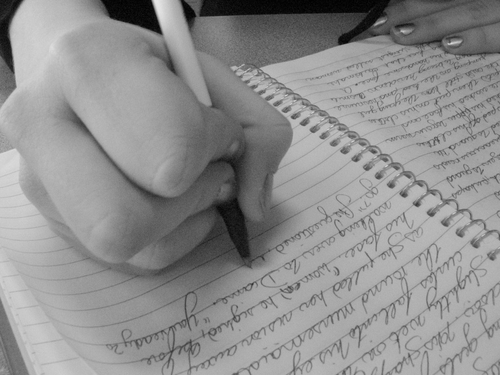 1. I'll be spending the first ten minutes of each morning doing a "brain dump".
I first saw this concept in an article about journaling your life. The basic idea is to write down whatever comes to mind very first thing in the morning without any concern about grammar or even making sense. You can write a to do list, dreams from the night before, ideas for projects you want to complete, or whatever else is on your mind.
I have successfully completed this exercise a few mornings over the past two weeks and I have discovered two things:
a. My most creative ideas come during this time;
b. I am much more in touch with my feelings, concerns and anxieties and I can address them rather than letting them "stew" beneath the surface.
2. I'll also be working ten minutes a day on de-cluttering.
If you read my article here then you know that I am a big fan of getting rid of clutter, especially before the holidays. De-cluttering is especially important in our home because we have lots of people in a relatively small space.
This week I will be taking one room a day and ruthlessly removing items we no longer use. I am giving myself ten minutes, but if I want to work longer on a particular day I will.
Would you like to join me in a ten minute a day project this week?
Choose an area you want to change or a project you have procrastinated on starting. When you decide what your Take TenTM project will be, you can leave a comment on this post to let us know what you're planning–the more the merrier!
You May Also Like: