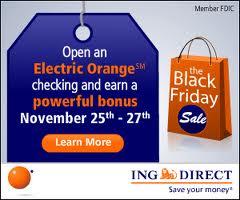 Check out this Black Friday deal from ING Direct: Open an Electric Orange account and get $107 dollars!
Open Electric Orange November 25th – 27th and make a total of 5 purchases (either signature or PIN-based) using your Electric Orange Card or Person2Person Payments (or any combination of the two) within 45 days.
Your $107 bonus will be automatically deposited into your account on day 50.
Bonus only available for new Electric Orange checking. Only one bonus will be provided per household.
You can also get $27 for opening a child's account.