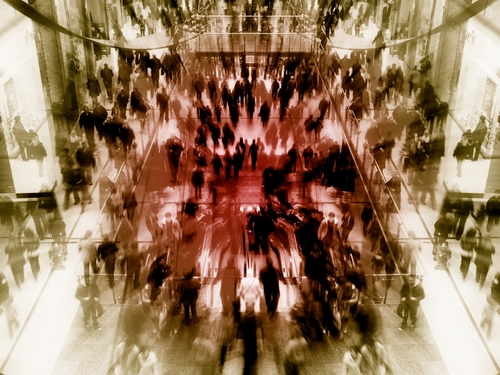 [Note: This is a repost from last year, with a few improvements. Scroll down to print my FREE Black Friday Shopping Planner! 🙂 ]
Black Friday: The day of the year when retailers' accounts are finally showing a profit (black ink instead of red ink), or as it is also known– the day of the year when most of America becomes frenzied, crazy, super-consumers.
It's almost here. Are you ready?
I do not consider myself a Black Friday shopper, although I have been tempted by sales three times in my married life. The first trip was to purchase $20 bicycles from Walmart when we had four bicycle-less children; the second was to buy a $50 Game Boy for my son when they first came out and the third was last year when I was invited by a friend to join in the "fun", but I had no particular items that I wanted to buy.
I have to say that my idea of "fun" is vastly different from my friend's.
If you are going out to have "fun" with thousands of other shoppers, keep these things in mind so that your fun doesn't turn into a HUGE headache when you go to the mailbox in January.
Set a Budget
I know that you don't want to hear the "B" word, but for your family's sake you need to take an honest look at your finances. If you are having trouble paying the power bill, it's just not wise to spend $50 on those awesome leather boots, even if they are $100 off retail. Likewise, if you have no emergency fund and are living paycheck to paycheck, adding another bill from your credit card purchases is not a wise move.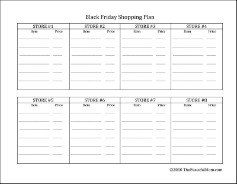 Make a List Ahead of Time
If you decide that you have extra money to use for shopping, take a few minutes to map out a plan. While you are still a sane, rational individual take a look at the ads in the newspaper or online and make a specific list of what you want to buy, including the price. Think about alternatives if those items aren't available so that you don't have to make split second decisions in the store.  (You can print my FREE Black Friday Shopping Plan –horizontal or vertical format).
Stick to the Plan
Did you know that statistically, for every gift that is purchased on Black Friday for someone else, the consumer will purchase two gifts for herself? The excitement and lure of super low prices are just too much for most people.
Don't be most people. While you are shopping, ask yourself a couple of questions:
1. Do I need this?
2. Where is the money going to come from to pay for this?
3. Will I love this a year from now?
Use Cash
I know, it just seems barbaric to think about taking cash on a major shopping trip, but the emotion and excitement of this day are about triple what a person would experience on a normal shopping day. Retailers capitalize on this adrenaline rush to put money in the registers. Once you're in the store with the other crazed shoppers, you feel a sense of panic:
"What if they run out of what I want?"
"What if I can never get it again?"
It's easier and more "fun" to live in the moment and just buy whatever you want while painlessly swiping your plastic. The only problem with this plan is the fact that you are going to have to pay for all that stuff and chances are you will be paying for it long after the item has lost it's appeal and has gone to Good Will.
The best plan is to leave your credit cards at home. When you set your budget, plan a cushion of extra cash for a few unadvertised deals that you find. Once you're in the store, stick to the plan.
If you follow these four simple steps, you'll be much calmer while shopping and much happier once you get home.
And remember: It's just stuff.  Relationships are what matter.
You May Also Enjoy: