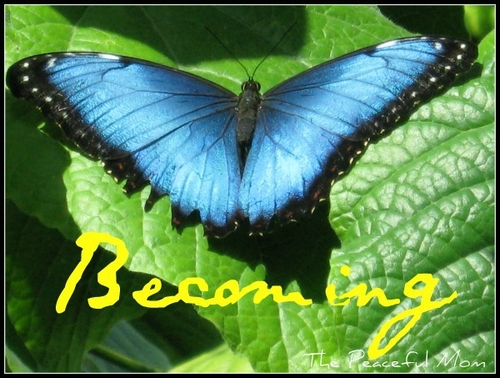 become verb  to change, to grow, to come into being
Welcome back to the Becoming Series! You can read the previous posts in this series here.
In my last post we left off at the point when I entered an inpatient recovery program in order to deal with memories of childhood sexual abuse. I learned there that inner healing is a process that requires a partnership between God and the person who needs healing.
The healing process is actually very similar to what a caterpillar goes through in becoming a butterfly.
The Caterpillar Stage
Caterpillars are unattractive little creatures. They crawl around and destroy their surrounding environment by voraciously consuming the fruit, leaves and vines of growing plants. By design, they are frightening to look at.
Caterpillars are also toxic. The hairs or quills on a caterpillar's body (called setae), which are used to deter predators, carry toxins and irritants. Some caterpillars (including the Blue Morpho pictured above) also secrete a rancid smell as a defense mechanism.
Just like the caterpillar, I "crawled" along in life, uninspired and unfulfilled. I got up, got dressed, went to work, came home, ate dinner, did some paperwork, watched some t.v., got some sleep and started all over again the next day. Even though I was a Christian, I was hollow and without substance: I had no purpose, no meaning in my life. I "did" life, but I wasn't living.
I also had sharp spikes that stung those around me: I was angry, frustrated and unloving. Those who came in contact with me noticed the rancid smell of bitterness. I was angry that I had been taken advantage of and I was determined that it would never happen again. My hard, protective exterior pushed people away, which is what I thought that I wanted, but deep down I knew that I was created for relationship. I knew that something had to change.
The Chrysalis Stage
At the appropriate time, the caterpillar sheds its skin to reveal a hard casing around itself called a chrysalis. During this phase of the caterpillar's life cycle, the adult structures of the insect are formed while the larval (caterpillar stage) structures are broken down. The caterpillar's body is literally dissolved within the hard casing and it is transformed into another creature entirely.
The chrysalis (or "cocoon" in moth species) is a lonely place, but it is a hidden safe place for the fragile caterpillar where it is protected from outside influences. During this phase there is little movement within the structure of the chrysalis.
At that time in my life, I entered the "cocoon" of the inpatient program where I could focus on healing rather than all the other details of life. Those things that were producing death in me rather than life had to be torn down and I had to be transformed into a new and better version of myself.
Practically this meant that I could no longer deny reality and try to run away from the painful truth: I had been sexually abused. I had to face the memories, the emotional distress and the anger. I had to face the lies that I believed about myself because of the abuse and I had to face my feelings about the person who had abused me.
The "cocoon" was a lonely place. No one but God and I could do the work that had to be done in my life. I could not rely on anyone else to tell me what to do or to feel those difficult feelings for me.
There was little "movement" going on in my life as I stayed still before God and allowed Him to do His work in me. The good thing is that God is especially close in times like these. The Bible calls the Holy Spirit our Comforter and truly He is. He wraps us in the love of the Father and soothes our wounds.
The Adult Stage
Once it's time, the adult butterfly emerges from the chrysalis by using a chemical to soften the hard casing of the chrysalis and then clawing it's way out using two claws at the base of its forewing. It is interesting to note that if anyone or anything tries to "help" by opening the chrysalis, the butterfly will be crippled for life and will never fly.
Once the butterfly has fully emerged from the tomb of the chrysalis, it pumps haemolymph (the insect equivalent of human blood) through its wings and allows them to dry. Once his wings are completely dry and hardened, the adult butterfly takes flight.
The struggle of emerging from the enclosure is what enables the butterfly to be everything that God created it to be. My struggle to gain healing is the very thing that God used to make me more like Him.
It is no coincidence that in its adult stage the butterfly is called an "Imago", which in Latin means "Image". When we are transformed by God, we are made into His Image: we are made to be more like Christ. As God transformed me I became more loving, more creative, more alive.
I personally have gone through these phases of transformation many times. There were many levels and layers of healing that God wanted to do in my life, and even today there are areas of my life in which I am a "caterpillar".
Each time God wants to heal something in me, He enables me to create a safe place in my life (through boundaries and self care) and He builds me up and encourages me before He does the hard work of surgery on my heart and spirit.
2 Corinthians 5:17 says,"Therefore, if anyone is in Christ, he is a new creation; old things have passed away; behold, all things have become new." (New King James Version). Truly through the process of allowing God to heal me, I have become a new creation!
In my next post, I will share one key in my healing process. In the meantime, if you have questions or just want to respond, please feel free to leave a comment. 🙂
Next post in this series: Becoming…Released
You May Also Enjoy: