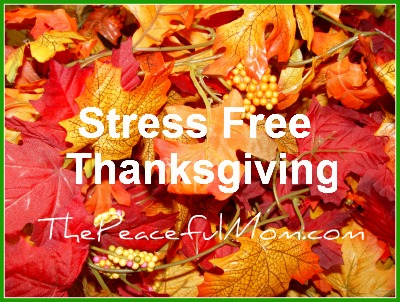 As promised, here is our Gluten Free Thanksgiving Menu! (It's mildly unimpressive, but super stress free!)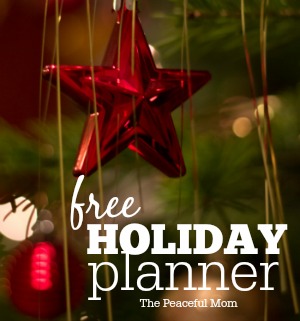 Want to enjoy Stress Free Holidays? Sign up for The Peaceful Mom Weekly eNotes and get my FREE Holiday Planner to help you stay organized and joyful.
ROAST TURKEY
My husband's employer gave us a 12 pound turkey (otherwise I would probably purchase a ham). I will be stuffing that bird with a couple of onions, giving it a nice moisturizing coat of real butter and a light sprinkling of kosher salt. Then it will be lovingly dressed in a fashionable Reynold's Oven Bag and placed in the "tanning bed" at 350 degrees until it achieves a nice golden tan.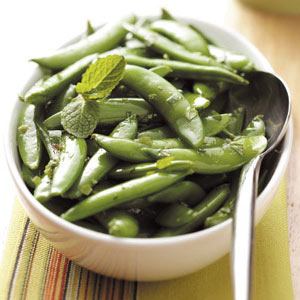 SUGAR SNAP PEAS
Thankfully my family is fairly easy to please. I will be popping open that plastic bag of frozen sugar snap peas and allowing them to enjoy a lovely steam bath, after which time they will also receive the real butter moisturizing treatment.
SWEET POTATO CASSEROLE
I have never made this lovely dish, but now that I have purchased 4 yams the size of footballs I have to do something with them. I found this recipe (although I am ashamed to tell you that I don't remember where). The photo above is a vegan version but here's the version I will be using.
Ingredients:
2 eggs
1 cup granulated sugar
3/4 cup butter, softened
1/2 cup milk
1 teaspoon vanilla
3 cups cooked sweet potatoes, mashed into oblivion
Topping
1/2 cup brown sugar
2 tablespoons butter, softened
1/2 cup chopped pecans
(Original recipe calls for flour which I am omitting. I haven't tried this yet, so if you try it and it doesn't work, please don't yell at me. 🙂 )
Directions:
With a hand mixer beat eggs, granulated sugar, and 3/4 cup butter until they say "Uncle". Add milk and vanilla. Combine with the mashed sweet potatoes. Spoon mixture into a greased 2-quart casserole.
For the topping: combine brown sugar, 2 tablespoons softened butter, and pecans and mix until crumbly; sprinkle over sweet potatoes. Bake at 350° for 45 minutes. Serves 6 (or 2 very hungry teenage boys).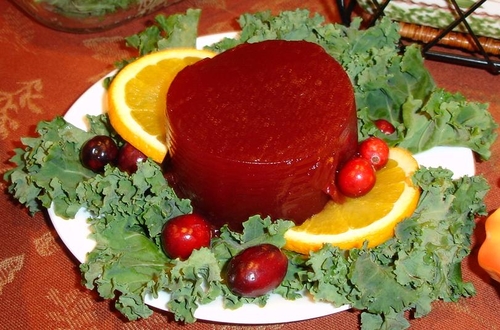 CRANBERRY SAUCE
Yes, I will be using the canned stuff because:
a) What's easier than opening a can?
b) My husband likes it.
If you prefer homemade cranberry sauce follow the directions on the bag of cranberries and enjoy!
SAVORY GLUTEN FREE STUFFING
If I'm feeling industrious I may try this gluten free stuffing recipe from Gluten Free Girl and the Chef.
Of course this is all subject to change. Since I'm not a fan of cooking large meals I may decide to pull out the Chebe Bread for my gluten free daughter and order pizza for everyone else!
You May Also Enjoy: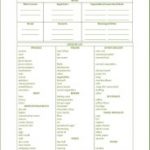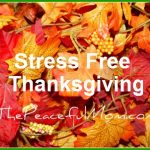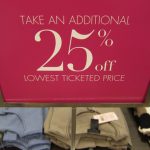 For more great menu ideas visit OrgJunkie.