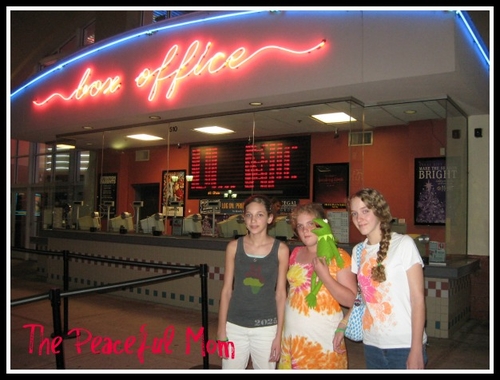 The Girls With Kermit Before The Screening.
Warning: The following review is written by a non-professional movie reviewer. Please note that the opinions expressed by the reviewer may not be used against her in the event that your opinion differs. 🙂
I don't normally do movie reviews on The Peaceful Mom, but since we were given tickets to The Muppets Screening I have to share!
The girls, my husband and I (along with my original 1978 Fisher Price Kermit doll) arrived at the screening a few minutes early with our cameras ready. I had planned to take photos of the girls at the event, but we were informed that no cameras or recording devices would be allowed–duh! Of course we can't bring a camera into the theater. I don't know what I was thinking!
After returning to the car to leave the cameras, we were allowed in the theater to be seated. There was quite a crowd, over half of which were media representatives.
Within a few minutes of the story opening, we were greeted with a cheesy musical dance number along the lines of Enchanted (it even included Amy Adams!) and I thought,"This is going to be a long night." The movie did get better quickly though.
The story line was interesting enough to keep our attention and the musical interludes were bearable, but just like every other Muppet Movie, the best part was the cameo appearances by famous actors. I won't give it away, but let's just say you'll be happily surprised at some of the actors who pop up!
The film is what you would expect from a Muppet Movie: corny jokes, wise cracks from old men puppets and a heart-warming ending. My girls enjoyed it and thought it was funny. There were, however, a couple of sexual innuendos that were inappropriate considering that this is a family movie. They will probably go over the heads of most children, but it is still unfortunate that they were included.
If you're a fan of the Muppets and grew up watching the television show, I think you'll be happy to see the movie. If you're not a Muppet fan, save the $11.00 you would have spent on the ticket and buy a pizza instead.