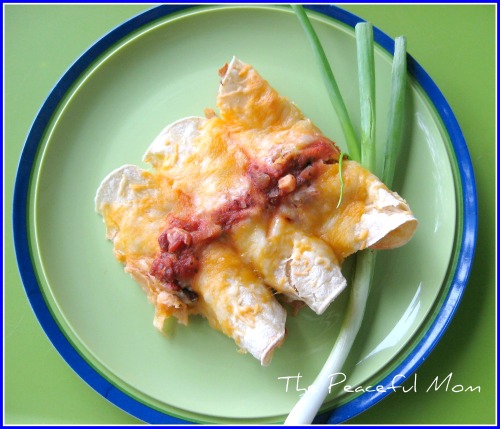 My Simple Chicken Enchiladas Recipe: This recipe is one of the easiest to use with leftover chicken. It tastes great and only takes a few minutes to prepare. I sometimes skip the cream cheese and sour cream if I don't have them on hand, and they are still tasty.
Simple Chicken Enchiladas (gluten free)
A super easy and delicious recipe from The Peaceful Mom!
Ingredients
4 ounces cream cheese, softened*
1/4 cup sour cream*
1 1/2 cups prepared salsa, divided
2 cups shredded cheese, cheddar or Monterey jack
2 cups shredded cooked chicken
(14) 8 inch GF flour tortillas
Instructions
Preheat oven to 325 degrees.
In a medium bowl, combine cream cheese and sour cream and mix until well combined.
Stir in 1/2 cup of salsa and half the shredded cheese.
Add chicken and toss to coat.
Place about 1/3-1/2 cup of the filling on a tortilla and roll it up.
Transfer tortilla to a glass baking dish placing the seam side down.
Repeat process for remaining tortillas.
Pour remaining salsa over the enchiladas and sprinkle the remaining cheese over the top.
Bake for 20 to 25 minutes until cheese is hot and bubbly and slightly browned.
*Many times we make these without the dairy products. Simply mix the chicken with 2 cups of prepared salsa, place in the tortillas, rollup and place enchiladas in the baking dish, top with salsa and cheese and bake.
https://thepeacefulmom.com/2011/11/14/chicken-enchiladas-recipe-gf/
I'm linking up to Gluten Free Wednesdays!