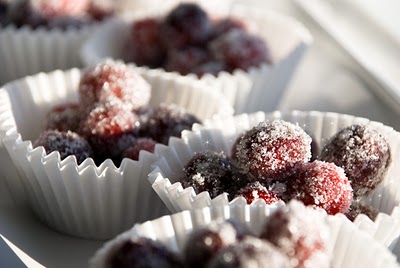 In love! I just found my favorite new holiday recipe: Candied Cranberries! These would be great at a party or to give as a gift.
CANDIED CRANBERRIES
1 cup granulated white sugar, divided
1/2 cup water
1 pound fresh cranberries (the fresher the better!)
In a glass bowl combine 1/2 cup sugar and water. Microwave on high for 1 minute and stir well until sugar dissolves (Microwave in one minute increments if necessary to completely dissolve sugar.). Allow syrup to cool.
Once the syrup has cooled to room temperature, add fresh cranberries and gently toss until the berries are completely coated in syrup. Lift the cranberries using a slotted spoon allowing excess syrup to drain, and transfer them to a shallow dish in a single layer.
Refrigerate the uncovered cranberries for 24-72 hours, stirring (gently!) every 12 hours to evenly distribute the syrup. Once dry and sticky, add the cranberries to a bowl with the remaining 1/2 cup granulated white sugar and toss until completely coated. Package, serve or refrigerate for up to one week.
(Thanks to Avacatau!)