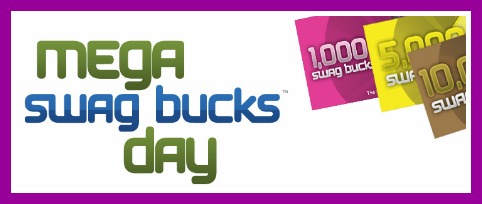 Don't forget it's Mega Swag Bucks Friday!
If you're already a Swag Bucks fan, you know that Swag Bucks gives out higher denominations on Friday so you can earn prizes faster. If you haven't signed up yet, today is the perfect day to start!
Click here  to sign up and now through noon on November 18th you can get 110 Swag Bucks just for signing up! Just the code SBPAYSFORME (type rather than cutting and pasting) during sign up and you'll get an additional 80 points in addition to the normal 30 for new sign ups for a total of 110 points!

Swagbucks just launched a "Swagbucks Pays For Your Holidays" contest where one winner will get $2500 in Amazon gift cards on Cyber Monday 11/28.  Just click here and complete your FREE Wishlist on Swagbucks.com to be entered to win.
In addition to the grand prize, they're also giving away prizes every weekday on their Facebook wall, Twitter page, and in the Swag Bucks Blog.  Here's how to enter:
*Complete your Wishlist found here (1 Entry).
*Share your Wishlist on either Facebook or Twitter using their Share buttons (1 entry per day you share).
*Have a new user register for Swagbucks through your Wishlist share (1 entry).
*Have that user complete and share their own Wishlist (4 additional entries).
Happy "Swagging"!