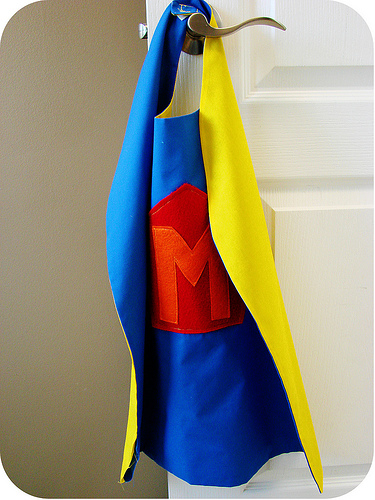 Are you worn out from trying to be everything to everyone? Maybe it's time to hang up the cape.
Women in general, and moms in particular, have so many demands placed on us. Our families, friends, churches and jobs require us to give and give. We are bombarded with images of the "perfect" woman: perfectly fit and fashionably dressed in her beautifully appointed home, serving an amazing gourmet dinner to her ever appreciative and well-behaved children, accomplishing amazing feats at work and all without breaking a sweat.
Even though we know in our heads that we can't do everything "perfectly" (or just do everything!), deep down we are still trying to be June Cleaver, Betty Crocker and Martha Stewart all rolled into one, and this is never more true than during the holiday season.
We believe that if we can just get more organized or more disciplined then we can accomplish the impossible, "be better" and have the "perfect" holiday. Sure everyone can use a little more discipline and structure in their lives, but organization cannot turn you into a superhero. There are still only 24 hours in a day and 7 days in a week and, contrary to popular opinion, we do eventually have to sleep!
So, if you're the kind of woman who is still trying to "do it all", here are some ways to tame your inner super woman and get some balance in your life before the holidays: 
ASSESS
What REALLY has to be done during the next two months? Can you re-schedule any appointments or obligations? Are there things that can wait until the New Year?
You can print this FREE Christmas Snapshot to help you evaluate what worked and didn't work for you in past Christmas seasons. Use the information to make decisions about the upcoming holidays before it's too late.
ELIMINATE
Once you have decided what your priorities are for this holiday season, eliminate those activities and obligations that are truly optional. Sure it's great to help set up your church's annual craft bazaar, but if you are already over scheduled and unable to meet the needs of your family and yourself personally, you need to say "no".
If saying "no" to people is difficult, read this post for some help and check out the book Boundaries: When to Say Yes, How to Say No to Take Control of Your Life
 by Dr. Henry Cloud.
DELEGATE
If you assess the situation and you feel that you cannot eliminate an obligation, but you're feeling overwhelmed, why not ask for help? If you've signed up to bring cupcakes to your child's school, but you can't see how you can fit it in, call a friend who likes to bake and see if she can help. You could offer to trade for a 2 hour play date for her child on a day you are less busy so that she can get some holiday shopping done.
Many times we think we have to do everything because it's our job as the mom, but families are a team and everyone needs to participate. Start asking your children to pitch in by folding or washing laundry, cleaning the bathrooms, vacuuming the living room. Even young children can fold towels (maybe not to your standards, but good enough!), empty trash cans, dust furniture and pick up trash. Ask your husband to run an errand on his way home from work or take over cooking duties for the evening.
SIMPLIFY
Many times we continue to do things that aren't working well for us because it's "what we've always done" or it's what we think other people expect of us.
Truly you are the only one who can decide what is best for you and your family, and its your responsibility to do so. By simplifying your holiday plans, you can enjoy them more and stress less.
Simplify Your Decor
Instead of having a Christmas Tree with 5 strings of lights and 3000 ornaments, you can hang a greenery swag over the mantle and place a rosemary tree on the dining room table. You can skip the outdoor lights and place a simple wreath on the door with a ribbon. Read my Thrift Store Decor post here.
Simplify Your Meal
I have a friend who ordered wings from a local restaurant for Thanksgiving one year because she had just had a baby and there was no way she could pull off an elaborate meal. You can read here about our Turkeyless Thanksgiving celebration a couple of years ago.
We also chose to go to Waffle House one year for Christmas–completely untraditional, but so much fun and really STRESS FREE! If you want to cook, why not use some simple tried and true dishes rather than a lot of complicated recipes? Print a Christmas Meal Planner and Grocery List here.
Simplify Your Schedule
As I mentioned earlier, you may need to eliminate some activities and obligations from your schedule. During the seasons of life that require more of us we need to be especially careful to take care of ourselves or we will inevitably come to a time when we reach burnout. I believe that the reason so many women are depressed in January is because they didn't take care of themselves in November and December.
To get your schedule under control, write everything on paper (click here for a FREE printable monthly calendar). Decide ahead of time what activities need to go rather than waiting until you are completely overwhelmed. Use this Christmas Activity Planner and Calendar to decide what you want your schedule to look like this December.
Make this year different. Give yourself permission to truly enjoy the holidays rather than trying to live up to an impossible standard placed on you by others. It's really okay to leave the superhero cape hanging in the closet!   
You May Also Enjoy: