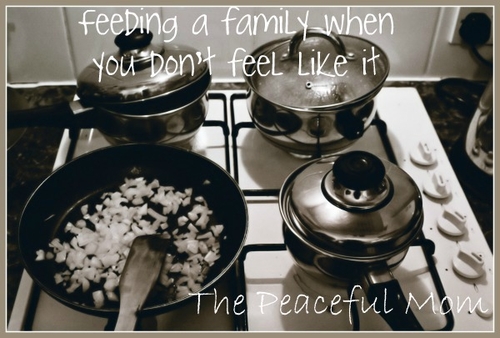 Confession: I am a culinary loser.
Honestly when I think about cooking I envision an old black and white horror film involving stainless steel pots and pans with the Psycho music playing in the background. Okay, not really, but I have to say that cooking is not my favorite thing. Being the mom of four hungry children, however, I realize that I do have to provide something for them to eat.
Since cooking is not on my top ten hobby list, my creativity in the kitchen waxes and wanes. Right now we are definitely in the waning phase. So how do I cope without resorting to take out?
Plan Easy Meals for Hard Days
If I know that I am particularly unmotivated to spend time in the kitchen I plan a super easy meal like BBQ chicken nachos (recipe here). It requires minimal effort because the crockpot is doing most of the work and my older children can serve themselves when it's dinner time.
Other easy meals are hot dogs and canned baked beans; grilled cheese sandwiches and canned soup; quesadillas and raw veggies with ranch dressing, and crockpot chili (recipe here).
Ask for Help
I am now the proud mother of two cooking teenagers. My son can make a mean quesadilla so I ask him to cook for us on a semi-regular basis. My daughter is a terrific baker so we often benefit from her culinary inspiration.
When my children were smaller I would ask my husband to help occasionally in the kitchen. I tried to limit these requests so that he didn't "burn out" on cooking for us, but it was really nice to have a break every once in a while.
Start in the Morning
For some reason, cooking rice is a challenge for me (no laughing please!). If I am looking at a bag of rice and an empty pan at 5:00 in the evening, we are probably not going to be eating rice. In order to trick myself, I measure the water and place it in the pan on the stove and place the appropriate amount of rice in a bowl next to the stove. Now cooking rice at 5:00 doesn't seem so difficult.
Other dinner prep tasks I often do in the morning are chopping vegetables, marinating meat, making bread in the bread maker or placing pre-cooked ground beef in the refrigerator to thaw.
Cook Ahead
If I happen to find a moment of inspiration I try to cook extra so there is food in the freezer to pull out during challenging days. Having food that only takes a few minutes to prepare keeps me from picking up the phone to call the neighborhood pizza place. (Believe me, I am tempted on a regular basis!)
How do you deal with a cooking slump? Share a comment so I can be inspired. 🙂
You May Also Enjoy: