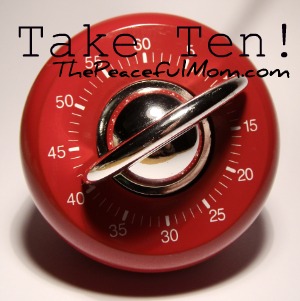 Take TenTM–Improve your life ten minutes at a time. 
"The key to success whether you are trying to lose weight, break a bad habit or save money on your grocery bill is to consistently apply small changes over time."

p. 27  Save More, Clip Less
One way I incorporate this principle of small changes over time is to choose a weekly project to work on ten minutes a day. Knowing it's only ten minutes helps me to get started–even if the project seems overwhelming at first. Working on the goal daily helps me to develop discipline (hate the word, love the effects!).
This week…
I'll be spending ten minutes a day sorting the family's clothing. I will be getting rid of clothes that no longer fit or are no longer worn. I will also be making an inventory of clothing items that are needed. It's just now getting cold enough for winter items, and I have a feeling we need to purchase some warmer pieces. 
Would you like to join me in a ten-minute-a-day project this week?
Choose an area you want to change or a project you have procrastinated on starting. When you decide what your Take TenTM project will be, you can leave a comment on this post to let us know what you're planning–the more the merrier!
You can also give us an update from last week. 🙂
You May Also Like: