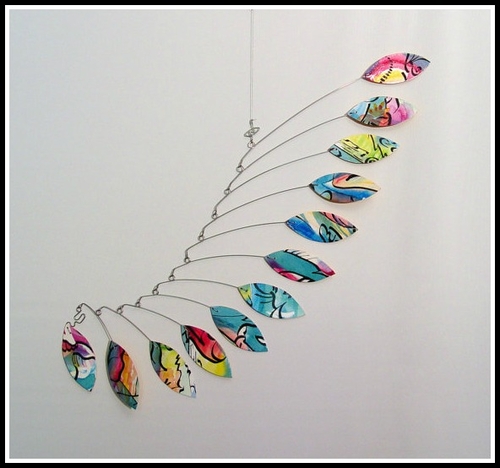 I'd like to welcome our newest Sponsor: Skysetter Kinetic Art Mobiles!
Carolyn Weir has been creating beautiful original artwork since 1976 and since 2009, she has been creating amazing kinetic mobile sculptures based on the works of Alexander Calder, Timothy Rose and others.
Carolyn says about her work:
"These kinetic mobile sculptures are lovingly created one by one. It takes me about 7 hours to complete just one. The concept for the mobile begins with an original watercolor painting. While creating the original painting, I think about how the mobile will look, designing the shape and movement concept with brush in hand. After the painting is completed it is permanently adhered to aluminum and sealed with polyurethane for durability. "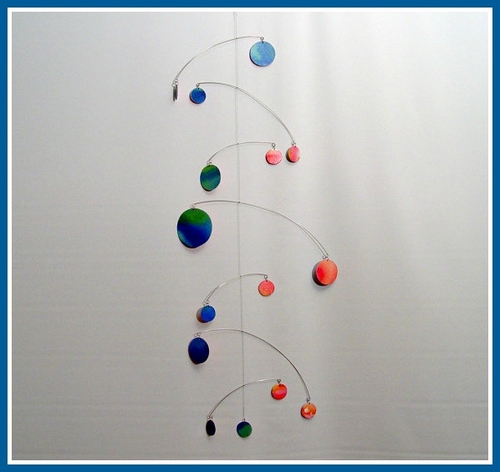 "I then begin the wireworking process, adding the components to the wire, looping and balancing as I go. I don't use a mathematical formula to create my balances but instead let the components tell me where they should float in the air. After the mobile has been created, I spend some time watching how it flows in the air, confirming that the balance is just perfect. The movement is calming, peaceful and relaxing making it a perfect item for a stressful home. For me, it provokes thought and new ideas!"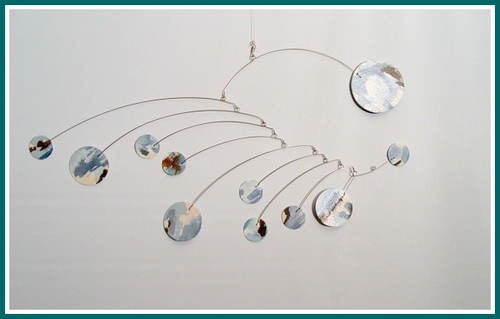 "I would like to see my mobiles in homes with busy lifestyles. Mothers with children who need a mini-vacation from time to time can benefit from this peaceful sculpture. It doesn't take long to realize the calming effects a kinetic mobile sculpture has in a very short period of time."
If you would like to see more of Carolyn's beautiful designs, check out her site here. These would make a meaningful gift!