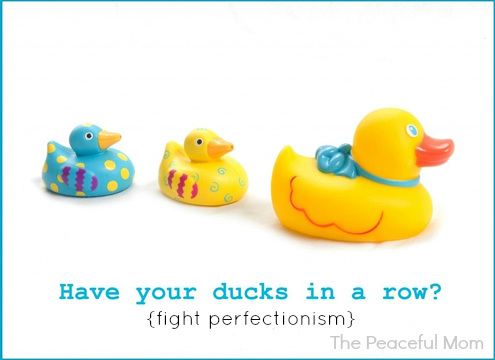 "Do you have your ducks in a row?" Is your life completely organized and in order? Probably not, and mine isn't either.
So how do you fight that guilty feeling that everything is not perfect?
STOP LOOKING AT OTHER PEOPLES' DUCKS 
One of the primary sources of stress for women is comparing ourselves to others. We look at other people's homes in magazines (which were staged by the way) and determine that our houses aren't clean enough or stylish enough. We look at models on television and decide we aren't thin or beautiful enough. We look at other families and decide that our kids don't behave well enough.
Maybe if we stopped looking around at everyone else and starting being grateful for what we have, our lives would be less stressful.
REALIZE YOU CAN'T DO EVERYTHING
Let's just get this straight: Martha Stewart has a team of probably hundreds of people working for her. How can you possibly keep up?
In order to lead a peaceful life you have to come to terms with the fact that you cannot do everything. The key is to decide what is important to you and make sure that you accomplish those things. Then let the rest go.
DECIDE WHAT'S GOOD ENOUGH
When my four children were six and under I realized that if the clean towels were ever going to get out of the laundry basket, I had to let other family members help me fold them. The towels were never folded to my standards, but who really cares if the linen closet looks a little sloppy? At least there weren't piles of clean clothes all over the living room!
I decided at that point that my linen closet would not be a high priority in my life, but spending time with my children would be. Now that the kids are older and can fold towels better, I let some other things slide like dusting and making amazing gourmet meals (okay, truthfully that never happened even without kids!). Fighting the urge to make everything perfect has saved my sanity!
FIND SYSTEMS THAT WORK
While everything doesn't have to be perfect, we still have to run our households. In order to take care of all the demands that are placed on us as wives and mothers, we have to find systems that work.
I find that a morning routine including a load of laundry and morning dinner prep are essential to making life run smoothly. I also rely on my Weekly Plan to keep me on track.
Some days don't go as planned. Today for example, sleep was more important to me than my morning exercise so I slept in a little and I'm leaving to take a walk in the park in a few minutes. I'm combining the walk in the park with an errand and a date with my youngest daughter to make the most of the unplanned time.
Whether your ducks are in a row or not, why not give yourself a break today by putting away the guilt of perfectionism and focusing on something positive in your life?  (And don't worry about how your linen closet looks either!)
You May Also Enjoy: