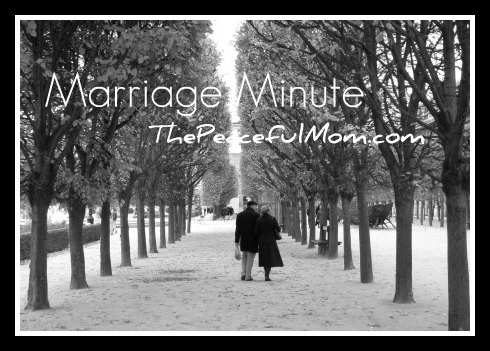 Marriage Minute: Do you complement your spouse or compete with him? 
One of the most difficult issues in my marriage has been my tendency to view my relationship with my husband as a competition. Thanks to my extreme type A personality, I was determined to win that competition at all costs. The only problem is that "winning" at marriage doesn't look like winning in other areas of life.
Do I always have to be right?
Do I always have to know everything?
Do I always have to win at Scrabble?
I can love my husband better by stopping the competition and being a complement to him. So what does being a complement look like?
ENCOURAGING RATHER THAN EMASCULATING 
The tendency in American society today is to make men look stupid and incompetent. If I play into this lie by constantly complaining and telling my husband what he is doing wrong, I will have one unhappy man on my hands. An unhappy man means a man unmotivated to work at loving his wife.
I just saw yesterday that Scarlett Johansen admitted that she was probably at fault in her divorce from Ryan Reynolds because she has a tendency to be critical. We can all learn from that statement.
AGREEING RATHER THAN ARGUING
We all have those moments when we know that our husband is wrong, but when I am constantly proving myself right or arguing to prove my point, I am actually tearing down my husband.
Maybe I am right at the moment, but what if I let him keep his dignity and keep my knowledge to myself? Later, if it turns out that I am right, it's easier for him to admit it because I haven't been rude about it. If it turns out I was wrong, I don't look quite as foolish.
Of course I am not going to become a wall flower or a door mat. Communication is key in a marriage and problems need to be addressed rather than ignored. Nagging about a problem that I have already talked about, however, is rarely productive. Keeping my mouth shut and agreeing for the sake of relationship at prudent intervals can make for a much happier marriage (and can even motivate my husband to make changes later down the road).
PRAISING RATHER THAN PUNISHING
We've all seen it on tv–the woman who gives her husband the cold shoulder or denies him sexual intimacy because he did something she didn't like. This woman is punishing the man in her life in a manipulative way.
What if instead I look for things that my husband is doing right and praise him for it? When we praise and complement our husbands they will want to be around us, and they will be more motivated to love us sacrificially. Just make sure that you are giving genuine praise, not simply saying words to build up his ego in a false way.
If you'd like a little encouragement for a better marriage, here are two FREE printable resources thanks to Bob and Yvonne Turnbull:
WHAT YOUR HUSBAND REALLY WANTS
Just promise not to use the second one against your husband. 🙂