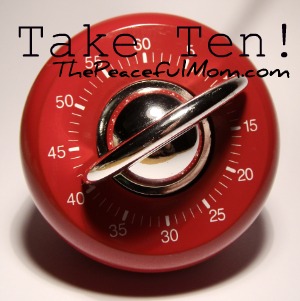 Take TenTM-Improve your life ten minutes at a time!
Confession: I'm a procrastinator! My natural mode of operation is to put things off and not plan ahead, so I have had to come up with ways to make myself more organized.
One way that I break my habit of waiting until the last minute is to divide large projects into ten minute tasks. Thinking about doing something for just ten minutes seems so much more doable!
This week I'll be spending ten minutes a day planning for the holidays. I will fill out our monthly calendar for November and December, plan the dates of our traditional family holiday outings, finish my gift planning and start making some of the gifts.
If you'd like to start planning, here are some helpful resources (click each link to access the resource):
Blank Printable Monthly Calendar
Black Friday Shopping Planner Printable
Thanksgiving Meal Planner and Grocery List Printable 
Thanksgiving Meal Time Line Printable 
Christmas Gift Planner and Christmas Gift Master List
Christmas Activity Planner and Printable Christmas Calendar
Christmas Meal Planner and Grocery List 
You May Also Like: