With Halloween coming up, I thought I would remind you to check every label before you let a gluten free child eat a piece of candy. There are some types of candy that you would probably assume are gluten free, but we learned last year not to assume.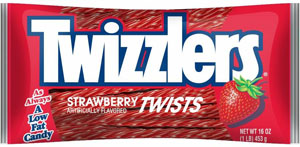 Twizzlers
I usually assume that gummy-type treats are safe because they don't contain flour. I never thought that licorice would contain gluten either, but the second ingredient in Twizzlers is actually flour.
Ingredients: Corn Syrup , Flour , Sugar , Cornstarch , Partially Hydrogenated Soybean Oil 2% or Less , Salt 2% or Less , Artificial Flavorings 2% or Less , Citric Acid 2% or Less , Potassium Sorbate 2% or Less – a Preservative , Artificial Coloring 2% or Less – Includes Red 40.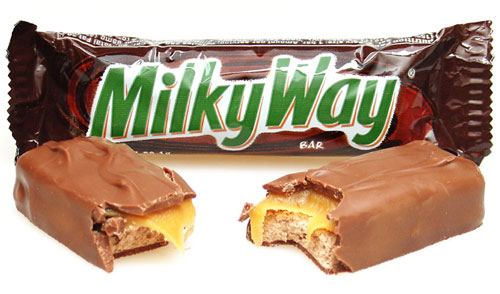 Milky Way Candy Bars 
You might think that because a candy bar doesn't contain cookies (like Twix or Kit Kat), that it would be gluten free. Milky Way bars, however, contain both flour and malted barley, a product made from wheat.
Ingredients: milk chocolate (sugar, cocoa butter, skim milk, chocolate, lactose, milkfat, soy lecithin, artificial flavor), corn syrup, sugar, partially hydrogenated soybean oil, skim milk, less than 2% milkfat, cocoa powder processed with alkali, lactose, malted barley, wheat flour, salt, egg whites, artificial flavor, soy protein.
Nestle Crunch Candy Bars
You should be especially careful of products that contain rice cereal. Most rice cereals are made with barley malt and, although it's not listed in the ingredients of the Crunch Bar, the label does include this warning: "MADE ON EQUIPMENT THAT ALSO PROCESSES PEANUTS/NUTS. CONTAINS TRACES OF WHEAT GLUTEN."  
You can also read this statement on their website in which they mention barley malt even though it is not on the package ingredient list!
Ingredients: Milk chocolate (sugar, unsweetened chocolate, cocoa butter, milk ingredients, lactose, soya lecithin, polyglycerol polyricinoleate, artificial flavour), rice crisps (rice flour, sugar, modified palm oil, glucose, salt, calcium carbonate).
To be safe, check EVERY piece of candy your child receives before allowing him to eat it and keep some gluten free alternatives on hand.
You May Also Enjoy: