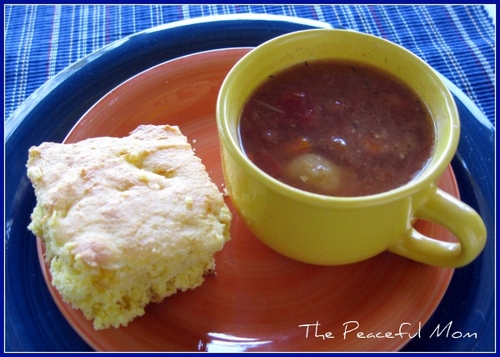 As promised, here is my easy recipe for Beef and Veggie Soup.
Earlier in the week I cooked a beef pot roast in my crock pot with onions, 1/2 cup Italian dressing and 1/4 cup Worcestershire Sauce. After dinner I cut up the left over roast and put it back in the crock pot with the left over green beans from dinner. I put the crock pot in the refrigerator over night.
The next morning I pulled out the crock, added (1) 28 ounce can of diced tomatoes, some diced carrots and celery we had left over, 4 cups of water and some seasoning. I let it cook on low for 8 hours and we had some delicious Vegetable Beef Soup.
If you're starting from scratch, here's an official recipe:
Easy Beef and Veggie Soup

Ingredients
1- 1 1/2 pounds cubed beef stew meat, browned
4 cups beef broth
1 medium onion, chopped
3 carrots, peeled and chopped or sliced (if using baby carrots, add in the last three hours)
1 cup celery, diced or sliced
2 large potatoes, chopped (large chunks)
(1) 28 ounce can diced tomatoes
1/2 tablespoon garlic salt (or salt to taste)
1 tablespoon Italian Seasoning
Directions
Throw everything in the crock pot and cook on low for 6-8 hours. Serve with this gluten free cornbread recipe or an Udi's bagel toasted with butter and garlic salt. Yum!
I am linking up at Gluten Free Wednesday!
You May Also Enjoy: