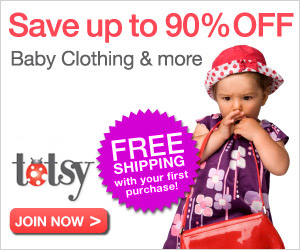 Have you heard about Totsy? Totsy is a deals website offering deals for moms and kids ages 0-8.
Prenatal care products, baby gear, travel accessories, bedding and bath, children's clothing, toys, DVDs, and educational materials are just a sampling of the products you can purchase for up to 90% off retail, including designer and name brand items.
Totsy offers:
Exclusive sales for kids, moms and families
Sales last up to 3 days, plenty of time to shop.
Savings of up to 90% off retail.
A tree is planted for your first purchase.
Membership is free.
Plus you'll get FREE shipping with your first order! 
If you're interested, click here to sign up.
(As always, make sure that sale prices are a good deal for you.)
Note: The links in this post are referral links.