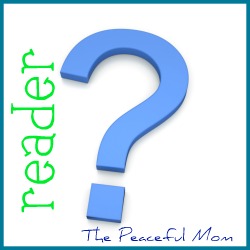 Q: I've been reading your blog for a while now and I appreciate that you keep your food budget to $100 a week, but what about nutrition? I can't feed my family organic vegetables and other healthy food for that amount.
A: Life is always a balancing act. There is never an unlimited supply of money, time or energy so we have to make choices and those choices will be different for each person based on her priorities and circumstances.
Nutrition is a highly personal issue. There are many differing views on what is actually healthy:
Do you eat carbs or not?
Do you eat fat or not?
Is red meat good for you?
Are Cheerios really a "whole" grain?
With so many varying opinions, you need to do your own research from reliable sources and make those decisions for yourself. Once you have decided what's best for your family, be happy with your decision.
Our family has to balance a very tight budget with health issues (my daughter's gluten allergy) and to be honest, some weeks we are very happy just to have grocery money to provide food for everyone. That's the reality of our life right now and it affects our shopping decisions.
My preference would be to buy organic fruits and vegetables, grain fed meat and free range chickens. Since I do have budget restrictions, I try to make the best decisions I can with the available resources. Some weeks are healthier than others.
HERE ARE SOME STRATEGIES I USE TO EAT HEALTHIER:
Buy Real Food
I purchase as much real food (vegetables, fruits and meat) as possible rather than processed foods. I do make some processed food choices (cereal for example) in this season of my life due to time constraints with home schooling and working from home. I also make a some food from scratch in order to save money like my Make Ahead Freezer Waffles. They are cheaper and better for us than the store bought version, but just as convenient when I make them in large batches ahead of time.
Be Choosy About Organic
If there is money in the budget, I buy organic versions of the fruits and vegetables that have the highest pesticide residue. (You can read more about that here.) This method prioritizes my budget and gives me the best value for the money I spend on produce.
Buy Nitrate Free Meat
I try to buy nitrate-free hot dogs and lunch meat when the budget allows. Nitrates have been shown to cause cancer, so if I have to purchase cheaper types of meat, I try to at least eliminate the yucky chemicals.
Drink More Water
Drinking water is not only healthy but a real help in lowering the grocery bill. I can use the money I would spend on sodas to purchase something with more nutritional value.
When balancing your budget and your family's nutritional needs, the most important issue is to decide your priorities and make sure that your purchases line up with them.
Perhaps you can cut your budget in other areas that are less important to make room for more organic food purchases or look for alternate sources of food. I just found out about a local produce co-op that I plan to take advantage of as our budget allows.
Just make sure that you are not sacrificing your overall financial health by spending more on groceries than your income level allows. Going into debt so you can buy organic food is not a wise choice and the stress of the debt may counteract the good you are doing by eating "healthier" foods.
The goal is to make the best decisions you can while balancing nutrition, money and time, and then enjoy life!
(Note: I post my actual meal plans as a part of sharing my life, to demonstrate ways that a family can eat for less and as an encouragement to moms to make some kind of menu plan to make their lives easier. I am definitely not holding up my menu plan as any sort of nutritional standard, so please do not interpret them in that way. 🙂 )
What are your thoughts? Leave a comment.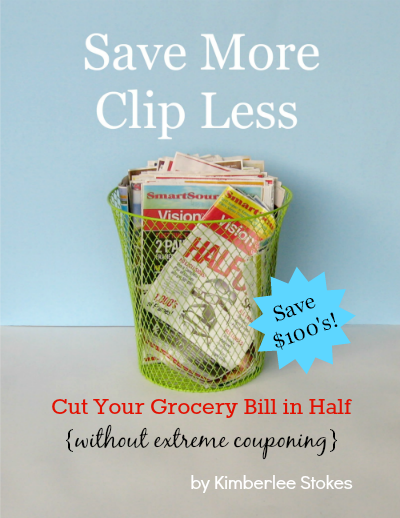 Need to save money on groceries?  Check out my ebook Save More–Clip Less: Cut Your Grocery Bill in Half  Without Extreme Couponing.
Click here to see what others are saying.