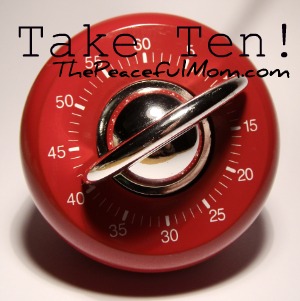 Take TenTM-Improve your life ten minutes at a time! 
"The key to success whether you are trying to lose weight, break a bad habit or save money on your grocery bill is to consistently apply small changes over time."

p. 27  Save More, Clip Less
One way I incorporate this principle of small changes over time is to choose a weekly project to work on ten minutes a day. Knowing it's only ten minutes helps me to get started–even if the project seems overwhelming at first. Working on the goal daily helps me to develop discipline (hate the word, love the effects!).
This week I'll be spending ten minutes a day making a list of the people I would like to give gifts to this Christmas and brainstorming some gift ideas.
Some of you have all of your gifts purchased and wrapped. Others are thinking,"It's October. Why do I need to think about Christmas now?"  If you're one of the people in the second group, or somewhere in between the two, why not get a little head start and maybe save some stress later?
If you'd like to join me in the holiday preparation you can print The Peaceful Mom Christmas Gift Master List or The Peaceful Mom Christmas Gift Planner.
If the Christmas list isn't a priority right now, choose another area you want to change or a project you have procrastinated on starting.  When you decide what your Take TenTM project will be, you can leave a comment on this post to let us know what you're planning–the more the merrier!
You May Also Like: