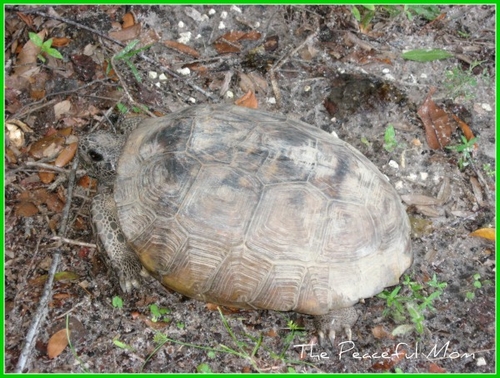 One of my favorite things about home schooling is the fact that life becomes your school room and the learning never stops.
Earlier this week, my daughter was reading on the porch when this big guy walked up. We had never seen a reptile of his size up close in the wild, so we all gathered around to take a look (from a safe distance 🙂 ).
We did a little research on the internet and discovered some interesting facts. Did you know, for instance, that all tortoises are turtles, but not all turtles are tortoises?
We also found out that this fellow burrows in the ground which creates homes for over 340 other species of animals. How incredible is that?
Sadly these tortoises are endangered, so we left him alone and watched him walk slowly out of our yard and into the neighbor's. The kids jokingly said that he must be trick-or-treating early since he was going from door to door.
"Mom, that kid's got the best Halloween Costume I've ever seen!"