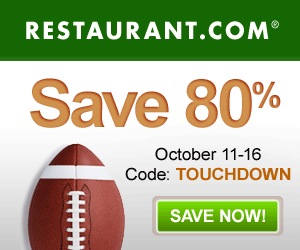 Restaurant.com just released a new 80% off promotional code that is valid through 10/16. Just use the coupon code TOUCHDOWN during checkout to get a $25 Gift Certificates ONLY $2.00!
These certificates would make great gifts or enable you to have an affordable date night! 
Here's how to get your certificates:
*Click here to find a restaurant in your neighborhood (Search by zip code or city).
*Browse through the list of participating restaurants in your area. You can even view the menu!
*Choose your restaurant and the gift certificate amount you would like, then click "Add to cart".
Be sure to read the restaurant's special instructions before purchasing the certificate as many restaurants require that you make a minimum purchase in order to use the certificate (i.e. minimum purchase of $35 is required to use a $25 restaurant.com certificate). Many also add an 18% gratuity prior to the certificate being applied, state that the certificate is good for food only, or restrict the days and times the certificate may be used.  
*Enter the promo code TOUCHDOWN into the "Promo Code" box in the shopping cart. Your 80% discount will be applied to your purchase and your final cost for a $25 certificate will be just $2.00!
*Once you complete the transaction, you will receive a confirmation page that allows you to customize, print or email the certificate to someone. The certificates can be customized with a choice of backgrounds,  message and the recipient's name. You may also choose to receive a notification when the certificate is received.
Note: Once redeemed the certificates are good for one year from the date of purchase. Some exceptions do apply. Click here to read the Restaurant.com terms and conditions.