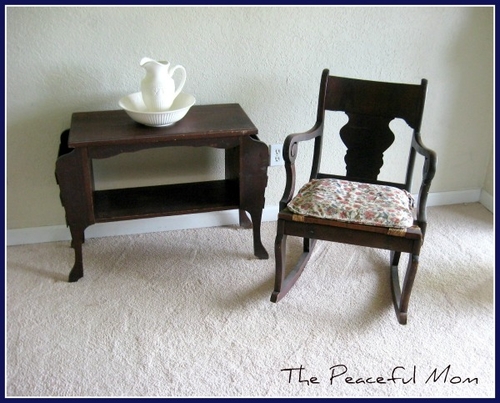 You may have seen this photo a few weeks ago when I decluttered my bedroom. Today I'd like to tell you The Rocking Chair story. 
Last year we felt that God was asking us to sell most of our belongings, move to another state for training and then possibly to move overseas. The process of selling everything was daunting, but it felt so good to be rid of all the extra stuff in our lives.
There were a few items, however, that were difficult to part with. One of them was an antique rocking chair.
The chair had a beautiful lines and a dark stain that had worn in all the right places. Even though it only cost $3.00 at a yard sale, I treasured that chair because I had rocked all of my babies in it and it had a wide, comfortable seat. I just felt comforted looking at it.
When the chair was sold I felt like a literal part of our family was leaving. I knew in my heart, though, that God had a better plan for us and that I had to let go of the old to let in the new.
Six months later, the situation hadn't worked out as planned and we had to refurnish a house in the new location. As I was looking in a local resale shop I saw this beautiful rocker.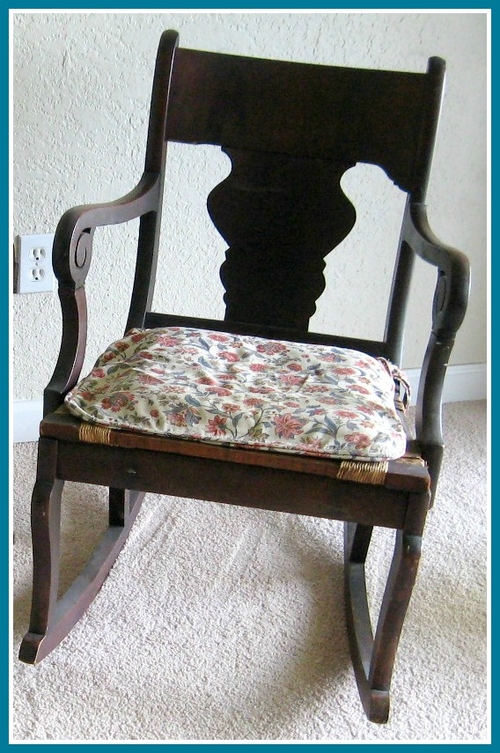 I asked the owner the price and she said she'd sell it for $5.00 because the seat needed to be redone.
I couldn't believe it! God had replaced my rocker with another one with the same dark stain and even more beautiful details–and for only $5.00! 
But the story gets even better:
A week later I invited a new friend to go out for a mom date. She came in the house and exclaimed,"That's my chair!"
"What are you talking about?" I asked.
It turns out that her family had made a move several months earlier and didn't have room for all their furniture. They didn't have time to sell the chair so they had set it out on the curb. Someone had evidently picked it up and taken it to the resale shop miles away where months later I "just happened" to find it.
We both stood there in amazement. God cares so much that He would weave all these tiny details together to assure me that He is with us and knows what's going on.
What an awesome Father I have!