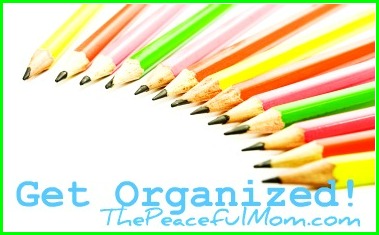 Since posting my Brain in a Binder video, I have had many questions from readers who are starting to use a planning binder for the first time.
I want to give a little advice to those of you who are just starting (or starting again!) to get life more organized:
START SIMPLY.
While a planning binder can be a great organizational tool, it can also be something that lies around unused after a couple of weeks. (Not that I've had any experience with this 😉 ).
Try starting with The Peaceful Mom Daily Planner and get a morning and evening routine in place. Once you have established these two habits you can then add other organizational skills to your "tool belt" like Weekly Goal Setting with The Peaceful Mom Weekly Goal Planner for example.
The key to getting organized is remembering that it is a building process, not a one time event. 
Even if you get your binder in "perfect" condition, it won't do you any good if you haven't established the habits that go along with using it.
If you have questions, please feel free to email me: Kimberlee @ ThePeacefulMom .com and if you missed the Brain in A Binder Video, you can view it here.
You May Also Enjoy: