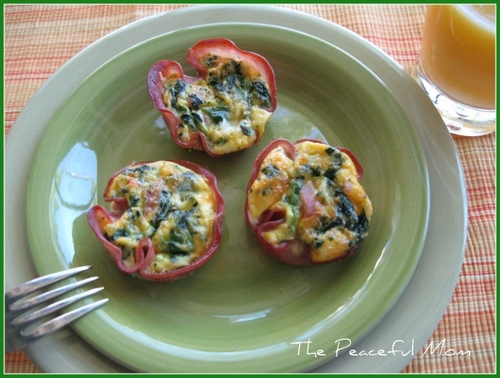 We tried these Ham and Egg Cups this morning and they were a BIG hit! You could even double the recipe and freeze some for an easy breakfast on busy days.
Ham and Egg Cups
Ingredients
4 eggs, beaten
1/4 cup milk
2 Tablespoons salsa
1 cup Mexican shredded cheese
1/4 cup frozen chopped spinach, thawed and drained
1/4 cup finely diced ham or bacon
1/4 cup finely diced green onions
1/4 teaspoon salt
1/8 teaspoon pepper
12 slices deli ham
Directions
Combine first three ingredients and stir until well combined. Stir in remaining ingredients. Grease or spray muffin tin cups and add ham slices.
Carefully spoon egg mixture into each cup making sure that it doesn't over flow the edges of the ham. Bake 20-25 minutes at 350 degrees until eggs are set and slightly brown on top. Serve immediately.
Yield: 12 Ham and Egg Cups
(Thanks to Our Best Bites for the idea!)
I'm Linking up at Tasty Tuesdays!
You May Also Enjoy: