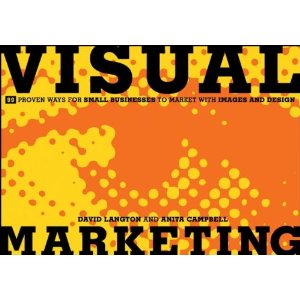 As a blogger I am always interested in marketing and business ideas and I was pleased to recently have the opportunity to read Visual Marketing, a new book by David Langton and Anita Campbell. 
Visual Marketing introduces the reader to 99 successful small business marketing campaigns, tells why they work and gives actual statistics demonstrating the tangible results of each of the campaigns.
The book is filled with specific, practical ideas for marketing your small business and even gave me some ideas for my blog. My favorite aspect of Visual Marketing is the abundant use of photographs showing examples from each campaign. The authors don't just tell you what to do, they show you.
Each campaign example also includes a helpful "Takeaway Tip" which tells you how to apply the concept to your own business.
True to it's name Visual Media is packed full of visuals to springboard your marketing campaign ideas and would be a good investment for any small business trying to improve it's reach.
You can purchase it at Amazon:
*The Peaceful Mom received compensation to review this book, but all opinions are 100% mine.