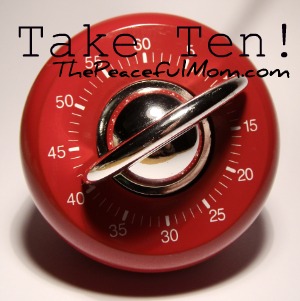 Take TenTM-Improve your life ten minutes at a time!
This past week's ten minute a day project for me was organizing and backing up the photos on my computer. I love using my camera and with all the photos I take for the blog, my "Pictures" library gets filled very quickly.
I had so many unorganized photos that I ended up not only spending ten minutes a day this week, but a couple of hours on Saturday getting everything organized. I've come up with a plan to prevent this nightmare from happening again.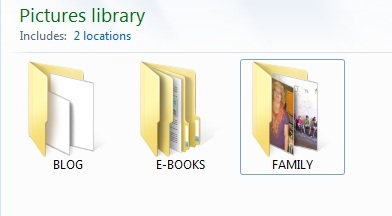 Make General Folders
I created general folders within the Pictures Library labeled FAMILY and BLOG because I want to keep these photos separate.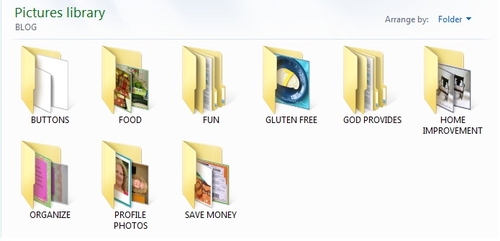 Use Categories Within Folders
Maybe I'm weird, but I prefer to store my photos in categories rather than by date so I can find them more easily. I tend to remember "Florida Beach Vacation" more easily than the date we actually took the vacation.
In the BLOG folder I created categories that match the categories on my website. Photos for recipes go in the FOOD folder, home decorating projects go in the Home Improvement folder, etc. (In case you're wondering, the BUTTONS folder is for the photos I use in the navigation buttons of my website.)
In the FAMILY folder I created general folders for each year (2008, 2009, etc.). Within the year folder, the folders have dates but also have categories like "Joe's Birthday" or "Fieldtrip to Columbus".
File Photos Immediately
My plan is to file photos into the proper folder EVERYTIME I upload them from my camera. I have a very bad habit of uploading photos, taking the one I want to use and leaving the rest wallowing in the pit of disorganization. Doing this little bit of maintenance now will save me big headaches later.
Create a Routine
I will also add Photo Organization to my weekly plan so that anything that has slipped through the cracks gets taken care of promptly.
Apply the Principle 
Perhaps photo organization isn't a problem area for you, but you can apply the same principle to other areas of your life. What is the one thing (or more than one!) that routinely piles up and causes you to feel overwhelmed? What do you avoid dealing with until you finally give in and spend hours trying to fix it, clean it or organize it? This is the area that needs to become a part of your regular routine.
The weekly Take TenTM ten minute projects can help to get you started on those large, overwhelming projects, but to avoid having "large projects" begin to incorporate daily and weekly routines into your life to take care of them while they are small projects.
Now that the photo problem is taken care of, I'll be spending ten minutes a day this week on a writing project.
Would you like to join me in a ten minute a day project this week?
Choose an area you want to change or a project you have procrastinated on starting.  When you decide what your Take TenTM project will be, you can leave a comment on this post to let us know what you're planning–the more the merrier!
You May Also Like: