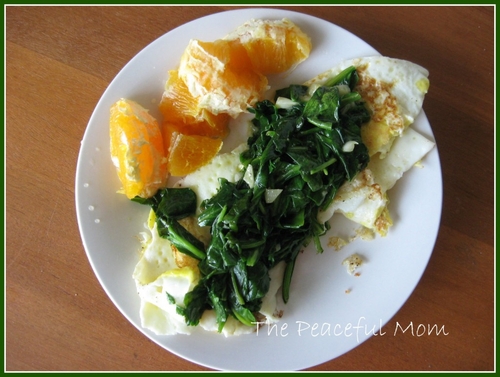 Breakfast with a kick!  Try this protein and vitamin filled meal.
 

Fried Egg w/ Sauteed Spinach (GF)

Ingredients
1 egg
3 tablespoons butter divided (use 2 tablespoons olive oil for Paleo diet)
2 cups fresh spinach, chopped coarsely
2 cloves garlic, minced
salt to taste
Instructions
Heat two tablespoons of butter (or 1 tablespoon olive oil) over medium high heat in a stainless steel or iron skillet.
Add garlic and saute for one minute or until it begins to soften.
Add spinach and saute until wilted.
Remove spinach and garlic from skillet and set aside.
Heat remaining 1 tablespoon of butter (or 1 tablespoon olive oil) in skillet until melted.
Add egg, breaking yolk but not combining yolk with the white.
Salt egg to taste.
Continue frying until egg white is firm.
Flip and continue cooking until done.
https://thepeacefulmom.com/2011/10/01/fried-egg-w-sauteed-spinach-gf/
Serving Suggestion: Add some leftover Black Bean and Corn Salsa to your egg!
I'm linking up at Tasty Tuesday and Gluten Free Wednesdays!
Please feel free to share this recipe, but please give credit and a link back to The Peaceful Mom. Thanks!