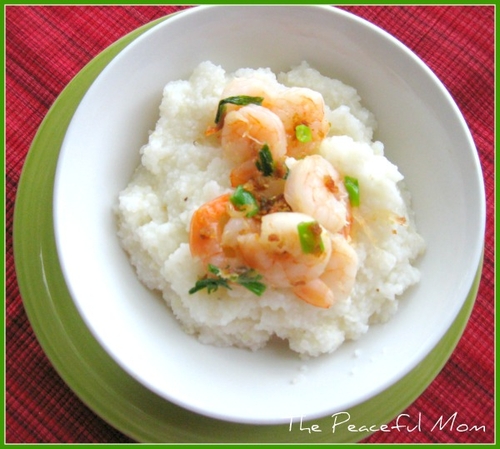 Simple recipe for Shrimp and Grits–a southern favorite! 
Shrimp and Grits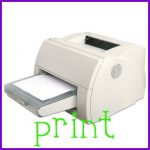 Ingredients
2 cups uncooked quick (not instant) grits + 8 cups water (8 cups cooked)
1 tablespoon salt
1/2 stick butter
2 pounds frozen cooked shrimp, peeled and deveined
2 green onion tops, finely diced
4 tablespoons butter
shredded cheddar cheese (optional-not shown in photo)
Directions:
1 hour before dinner: Thaw shrimp according to package directions and place in refrigerator.
20 minutes before dinner: In a large pot bring 8 cups of water to a boil. Add grits and 1 tablespoon of salt and return to a boil. Cover and simmer over low for 5 minutes or until thickened, stirring occasionally. Remove from heat and add 1/2 stick butter (add more salt and butter if you prefer).
In a large skillet or wok, melt 4 tablespoons butter over medium heat making sure not to brown butter. Add cleaned shrimp and green onions. Saute for 1-2 minutes until shrimp are lightly brown.
Pour grits into individual serving dishes. Add shrimp and onions plus desired amount of shredded cheese and serve. Serves 6.
There are more complicated recipes for shrimp and grits, but we prefer the simplicity of this one.
You May Also Enjoy: