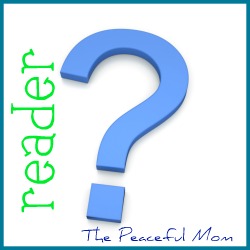 Q:
Reader B. asks,"I'm a new reader and appreciate your menu planning and budget ideas. Do you have a budget and plan for purchasing your household necessities like cleaning products and toiletries?"

A:
Our budget for household items and toiletries is $50 – $75 a month. My primary strategy is to watch for sales on items we regularly use like shampoo, razors, body wash, etc. and stock up when I see a really low price.
I also purchase toilet paper cheaply from Amazon. I love the convenience of having it shipped directly to my home and the fact that we don't run out and have to make a trip to the store for "emergency" toilet paper. Click here for the details.
As far as household cleaners, I only use a few: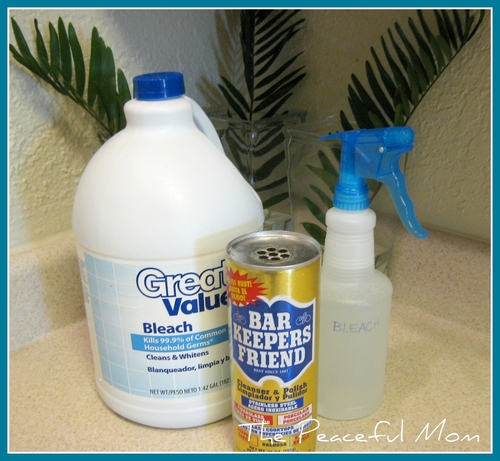 Bar Keepers Friend – Great for sinks, counters, tubs and toilets, has no chemical smell and costs between $2 and $3. I use this to clean my stainless steel pots and pans as well, and it works great to get stuck-on food off in a jiffy! Click here to grab it on Amazon.
Unscented Bleach – I mix about 1/8 cup of bleach with a liter of water in a spray bottle labeled "Bleach" and use this for disinfecting counter tops or sinks after I have handled raw meat, bleaching out stains and cleaning the bathroom surfaces to keep germs to a minimum. The 1.42 gallon of bleach costs less than $3.00 and lasts FOREVER (not really, but a very long time)!
Vinegar – I use white vinegar mixed with water to clean my windows and to mop the floors. I use this DIY Citrus Cleaner for other surfaces.
Laundry Detergent – I buy an allergy free brand which my daughter with skin issues uses to wash her clothes. I watch for sales and printable coupons and stock up at the lowest price which is usually $2.50 for a 50 ounce bottle. One bottle lasts a couple of months with only one person using it. I also buy a 1.5 lb. box of powder detergent for around $2.00 for everyone else's clothes. We use about 1 box every 3 or four weeks. You can read more here about my experience with homemade laundry detergent (along with lots of great tips in the comments of the post).
Dish Detergent – I buy the cheapest dish detergent and dishwasher detergent I can find and we only use about a tablespoon of the dishwasher detergent per load. If you read the manufacturer's instructions, you only need a small amount of detergent to wash dishes effectively. [UPDATE: Since we moved to our new house we have a new dishwasher that requires Finish detergent because it contains phosphates. You can grab the 64 count Finish Dishwasher Detergent here.
To simplify life I have instituted a Once-A-Month Non-Food Purchases Policy. My teens know that when their products are running low they need to add them to the list I have on the fridge. I make one trip per month to purchase anything we need that I haven't found on sale and if the item isn't on the list they have to wait until my next trip.
How do you save on cleaners and other non-food items? Leave a comment.
You May Also Enjoy: