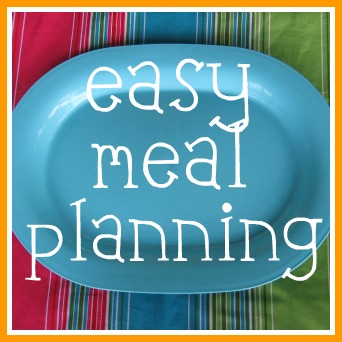 Easy Meal Planning: Great tips to help you get dinner on the table (and fast!).
Watch my Easy Meal Prep Video here.
Read more Easy Meal Planning Tips here.
Easy Meal Planning: Morning Meal Prep
One way to keep dinner stress-free is to start dinner preparation first thing in the morning. To give you an idea of how I do this, let's take a look at my meal planning for this week.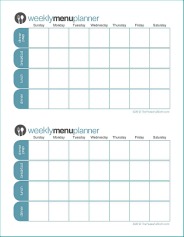 [You may have noticed that The Peaceful Mom Printable Meal Planners contain a space for dinner preparation at the top. This section is a reminder to start dinner early so that when "rush" hour starts, there's not much to do to get dinner on the table.]
Here's what my dinner prep looks like this week (last Thursday to this Wednesday):
THURSDAY
Meal: Chicken and Stirfry Vegetables, Rice
A.M. Prep: Cut chicken into strips, marinate in Italian Dressing (vegetables are pre-cut); measure water for rice and place in boiler; measure rice into a bowl on the counter.
Dinner Time: Start water boiling, add rice; saute chicken and vegetables in olive oil rather than soy sauce (for gluten free child), serve soy sauce at the table.
FRIDAY
Meal: Take Out Pizza (with a coupon!)
A.M. Prep: Nothing! 🙂
SATURDAY
Meal: Taco Salad
A.M. Prep: Wash, tear and spin Romaine lettuce (salad spinner!); cut other veggies for salad, combine salad ingredients (except for tomatoes) and store in the fridge; set ground beef from freezer on counter to thaw (you only want this to be out for a couple of hours and then stick it in the fridge to finish thawing); bake and shred chicken for tomorrow.
Dinner Time: Saute ground beef with homemade taco seasoning (recipe here); add corn chips and salad to individual bowls, add meat and shredded cheese on top. Serve with salsa, sour cream and Italian dressing on the side (family members usually choose either salsa and sour cream or dressing.)
SUNDAY
Meal: Black Bean and Chicken Chili (recipe here) 
A.M. Prep: Set black beans from freezer on counter to thaw, set London Broil from freezer out to thaw for tomorrow (I put this in the refrigerator after a couple of hours).
Noon Prep: Add all ingredients to crock pot. (I wanted to start the Chili later in the day because all the ingredients are pre-cooked and it basically just needs to heat through before serving.)
Dinner Time: Open bag of corn chips and pour in serving bowl, pour shredded cheddar cheese into serving bowl. Serve Chili.
MONDAY
Meal: London Broil with Steamed Broccoli and Mashed Potatoes
A.M. Prep: Slice London Broil crosswise on both sides, place in a glass dish, pour GF Steak Marinade (recipe here) over it and set in refrigerator; wash potatoes.
Dinner Time: Quarter potatoes and place potatoes in pan, cover with water and start cooking. Line broiler pan with foil, place meat on foil and place under the oven broiler set at 500 degrees. Cook for 8 minutes on one side, flip and cook for 7 minutes on the second side. While London Broil is cooking, set broccoli on stove to steam. Drain water from potatoes, mash potatoes and add butter, salt and milk.
Remove meat from oven and allow to rest for 2-3 minutes before slicing.  Serve dinner.
TUESDAY
Meal: Leftovers (The chicken thighs I had planned to buy were not that great of a deal and we had lots of leftovers from the week.)
A.M. Prep: None!
Dinner Time: I reheat the food in the oven and everyone selects what they want.
WEDNESDAY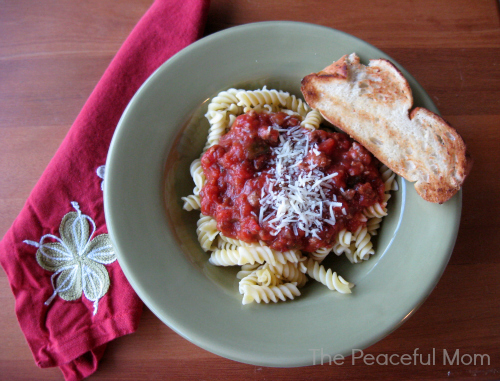 Meal: Pasta with Homemade Sauce, Green Salad
A.M. Prep: Take sauce from freezer (recipe here) and set on counter to thaw; prepare salad.
Dinner Time: Heat sauce in a sauce pan on the stove, cook pasta according to directions (my daughter cooks her own gluten free pasta). Serve with salad.
Taking a few minutes every morning to get a head start on dinner helps me to stay sane during "rush hour" with hungry kids and helps me to get the food on the table faster. Try it, you'll like it! 🙂
Read more Easy Meal Planning Tips here.
You May Also Enjoy: